Skijoring Fundamentals Dryland Clinic
December 4, 2016 @ 10:00 am

-

12:00 pm
Event Navigation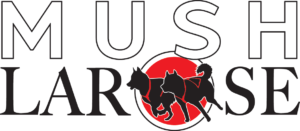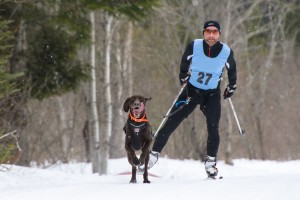 Interested in training your dog to skijor? The Mush Larose Association members of Kanata Nordic are offering Kanata Nordic members a dryland clinic on Sunday, December 4th at 10:00am to teach the basic skills required to get you and your dog started. The clinic is free of charge. It's our way of saying thank you for sharing the trails with us. We hope to hold it at the Wesley Clover campgrounds at 411 Corkstown Road, but still have a few details to work out. We will have a back up plan if we have to change location.
The clinic will be open to registered 2016/17 Kanata Nordic members 12 and up, but for participants under 15 years old we will expect a parent or guardian to remain at the clinic with them. The dogs will not be working continuously so it would also be useful if there's a vehicle nearby for them hang out in while they are waiting for their turn to play.
What you will learn:
The basic skijoring equipment
Helping your dog feel comfortable pulling in a harness
How to teach your dog to turn, go around obstacles, slow down and stop on verbal command
How to teach your dog to ignore distractions (other dogs, squirrels, deer…)
Where to skijor in the Ottawa area
Information about other mushing sports (canicross, scootering and bikejoring)
Information about Mush Larose, local national and international events
What you will need to bring:
Your dog
A study 6 foot leash (please no flexi-leashes)
Water for you and your dog
High reward treats for your dog
Clothing appropriate for the weather conditions
Comfortable footwear suitable for walking and running on trails
Set of walking poles or short ski poles
We will have an assortment of dog harnesses, human belts and lines for people to use during the clinic so no need to buy anything in advance.
Normally for skijoring it's recommended that dogs be larger than 30 lbs, but the same skills can be used for the sport of canicross (running with a dog pulling you) where smaller dogs are being used. So if you want to give a go with a smaller dog please feel free to join us.
The "coaches" for the clinic will be:
Murielle Ovenden – Member of Team Canada for the 2009 and 2015 IFSS Dryland World                                       Championships and the 2009 IFSS Winter World Championships
Blair Carroll – Member of Team Canada for the 2015 IFSS Dryland World                                                    Championships
Sebastian Clement – Member of Team Canada for the 2015 IFSS Dryland World                                                    Championships
Robyn Rittmaster Professional dog trainer
As mentioned there is no charge for Kanata Nordic members, but there will be limited spaces available so pre-registration by November 27th  is required.
If you would like additional details or to register please contact Blair Carroll at blaircarroll@hotmail.com.