Photos
Club Fun Day, March 2, 2013
Thanks to Kam Leung for these images from our Fun Day: a variety of ski-based fun and games organized by the older skiers (Racing Rabbits, Track Attack and Racers) for the younger ones followed by a delicious barbeque and loads of homemade cupcakes courtesy of the Jackrabbit skier families.
Photos from the 2011-12 and 2012-13 Seasons
We've uploaded a selection of photos to our club page on the Shutterfly web site. Have a look!


Mostly Track Attack Junior Crew, 2011-12
Check out the photos from this season's enthusiastic Track Attack junior crew (plus other shots from our Saturday sessions) on the club's Flickr page. There are also photos on the club's Shutterfly page. Special thanks to photographers Ken Knight and Kaleigh Maclaren for contributing most of the images.
---
Photo Contest: And The Award Goes To…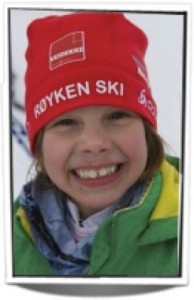 It's a tie! We've chosen two winners, Jo-Ann Holden and Rob Smith. Not only for their beautiful photos but for their generosity, as they freely shared their images without 'officially' entering the contest.
Jo-Ann has allowed us to use her photos in various Kanata Nordic publications whenever asked, and spent the entire day of the Pretzel Race perched on a little plastic stool capturing shot after shot of the action. Jo-Ann's own web site, updated daily with inspiring images, can be found here.
Rob, a member of Nakkertok, also took many photos at the Pretzel and offered them to us for use on our own web site. All of Rob's Pretzel photos can be seen here. (Photo by Rob Smith)
---
The 2011 Kanata Nordic Sprint Race (The Pretzel)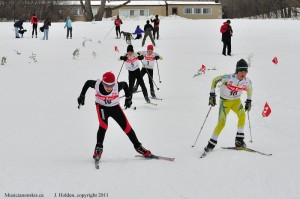 This year we had the great fortune of having local photographer-musician-skier-coach Jo-Ann Holden at our sprint event.
Jo-Ann regularly photographs the major cross-country ski events in the National Capital region.
Jo-Ann voluntarily spent many hours parked trail-side with her camera aimed at the action and captured the day's events beautifully.
View all the images on her web site. You will want to return to Jo-Ann's web site often for her inspiring daily photo posts!
---
Kanata Nordic Skiers at the Tay Valley Loppet, Jan. 2011
Click on the image for a larger view. Photos courtesy of Simon Lunn, Smith Falls, ON
---
Snow Photography: When it's Bright, Let in More Light!
By Jo-Ann Holden
Jo-Ann is an avid cross country skier, an outdoor enthusiast year-round, a professional musician and an exceptional photographer. She generously shares her exquisite and inspiring images of skiers, wildlife and the natural beauty of our region through daily postings on her web site, www.musicianonskis.ca/blog.
When I first began to photograph skiers and snowy scenes I was frequently disappointed with images featuring grey snow and dark, shadowy skiers. Where were the dazzling colours and the bright snow I remembered? Of course, the dull lighting can be improved with Photoshop, but how much more exciting it is to start out with brilliant colours!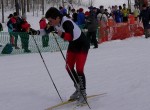 An example of snow appearing dull and grey
The solution is very easy, but somewhat counter-intuitive. It seemed obvious to me that a snowy image should be bright. Not so, however! Here's why.
The camera's light meter is very clever. Its mission is to read the brightness of the scene and to adjust the amount or speed of the light entering the camera so that each image contains, on average, 18% grey. This 18 % grey is a level of brightness, not a specific colour. Examples of this brightness are blue sky, tree bark, or the colour of the palm of your hand (for all races of people). It is neither very bright nor very dark.
When the light meter reads snow, it finds the scene overly bright and automatically underexposes the image to give a more neutral colour. Hence, dark snow. Interestingly, a black squirrel filling the frame would have the opposite effect, causing the camera to overexpose, lightening the colour of the squirrel.
To create white snow, simply overexpose your images by adding more light. On many cameras the Exposure Value (EV) button is easy to spot, on the back or top of the camera. Look for EV or +/-. Some cameras will require you to poke around in the menus. You will need to increase from between 1/3 to 2 full stops, depending on your camera, the type of metering, the brightness of the day and how much of the scene is snow. A sunlit, snowy scene without skiers may require 2 full stops of extra light. If the day is dull, perhaps 1 stop will suffice. If colourful skiers fill the frame, perhaps you will not need any extra exposure at all! Experiment: Pixels are cheap. You will see how your camera reacts.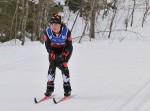 An example of bright white snow
Most modern light meters default to 'matrix' metering. This means that the light of the entire scene is averaged. Usually this works quite well for most situations. If you are photographing ski races, however, you may wish to experiment with 'centre-weighted' metering. Here, the ski racer will be more important to you than snow detail. Try it out ahead of time to see if you like it. Good luck, and have fun in the snow!
Kanata Nordic Photos
Click on the following links to view the photos specified. Please note that the photos are hosted on other web sites so a new browser window will open to take you there. Most of the recent photos can also be accessed from Kanata Nordic's Flickr page.
2009-2010 Season
2007-2008 Season