The Pretzel – Kanata Nordic's Sprint Race
Announcing the 2015 Kanata Nordic Pretzel Sprints, Sun. Feb. 22
The race notices are here: English- here, French- here. To register go to Zone4 to register.
Registration deadline is Friday Feb 20 at midnight.
---
2014 Pretzel information:
The race notice is here.
To register following this link https://zone4.ca/reg.asp?id=6303 or search for kanata sprint race in zone4.
The 2014 Pretzel race result can be found here.
2013 Pretzel information:

Check out the great photos from the Pretzel on the club's Shutterfly site.
Sunday February 24th,

2013
The Pretzel  2013 has come and gone and what an event it was! The weather cooperated very nicely this year with light breezes, some snow flakes, and mild temperature. Although touch and go in the weeks before the race, snow arrived when needed and rain stayed away, so the sprint course at the Y Outdoor Education Centre was in great condition on the day. Skiers, coaches, supporters and volunteers all came through too. What more could we have asked for?
This year 115 skiers from 7 years of age and up participated. There was plenty of friendly, healthy competition at all levels from area Clubs. Most skiers participated in the qualification race and at least 2 heats. Some, like the Men and the Juvenile Boys skied only 1 heat due to low registration numbers but Peewees and Midgets ran the full gamut of quarters and semis before their A and B Finals.
Starting at 9 AM, the timed qualification race preceded the Free Style sprint heats, which got underway at 10:30. Seeding for the heats in nine separate categories was based on the results of the qualification race. Relative finishing position determined the results of the heats, the last of which finished just after 2 PM. In the words of Kanata Nordic president, Richard Batty "the races ran like clockwork and the breaks between the races were also perfectly timed, [with] just enough time to go in a have a coffee and muffin … congratulations on a SUPERB job …" The  plentiful hot food on hand, including chillis, mac & cheeses, somosas and much more, was a big hit. After the breaks participants, volunteers, and supporters headed back to the course happy and well-fed. There were plenty of cheers and smiling faces at the medal presentations at 2:30.
A huge vote of thanks must go yet again, to Shelagh Ryan who, from its inception in 2008, set new and higher standards each year in the organization and running of The Pretzel. This year we thank Lily Yip who stepped in and ably filled the large shoes left when Shelagh stepped down. Lily was Pretzel Event Organizing Chair, Chief of Volunteers, Chief of Catering & Food and Chief of Site and Venue. Of course, one person alone cannot run a event like this. A large team of volunteers from the club membership made it all happen. Some of the lead roles were filled by: Mike Duivenvoorden as Chief of Competition; Elizabeth Brown as Chief of Safety and Assistant to Chief of  Volunteers; Kam Leung as Competition & Registration Secretary; Harris Kirby as Chief of Timing & Results; Pat Kirkham as Chief of Course; Gene Vigneron as Chief of Stadium; and Steve Tuttle as Chief of Marshalls.
The last word comes from Dave Keenan, Recreation and Community Development Officer with the City of Ottawa, who said he "…could not get over the over-all organization of the entire race … [and was] hugely impressed…" Kanata Nordic, you have every right to be proud of yourself!
We hope to see you all at The Pretzel again next year.
The Pretzel Sprint Race is open to all skiers 7 years of age and older. It is a Free Style sprint race that begins with a qualification race followed by a series of sprint heats. The qualification race will be timed. Results of heats will be based on relative finishing position. The intent of the race is to encourage participation and healthy competition in NCD Races at all levels by all member Clubs. Most athletes will participate in the qualification race and 2 heats. The details of the 2013 edition of the Pretzel Sprint are contained in the Race Notice. Click on the Race Notice link below and read all about it.
Race Notice ……………….. Race Registration via Zone4 ……………….. Confirmation List
Atom & Peewee 350m Course …………. Midget 650m Course …………… Juvenile, Jr & Open 1000m Course
Atom & Peewee Start List ... Midget Start List ... Juv,Jr & Open Start List ... All Categories List
The 2011 Pretzel in Review
Speaking of energy, flexibility, persistence, enthusiasm, faith, and dedication…who else do you know who willingly sits barricaded in a tiny space for nearly 6 hours straight hunched over a computer screen dealing with a new race system and timing equipment and at the end of the day that had its share of tense moments, comes up smiling, making jokes and has plans for next year? Harris, you deserve a medal of your own! Mike and I get to walk around and observe directly the smiles and laughter and the positive comments from parents, skiers and volunteers alike while Harris is stuck in a corner and only hears from the parents and skiers when things go wrong.
We had one or two issues this year but nothing insurmountable and as always there is room for improvement in everything from the course width, to more Mac and Cheese and less baked beans! The level of excellence, the degree of commitment, and the positive attitude demonstrated by volunteers, parents and skiers alike can not be denied.
I was impressed, again, by the synergy and camaraderie that race day generates. It has been suggested that we invite event planners in to take over many of the tasks and to a great extent it would be easier but I also
think that we would loose too much. There is an unmistakable mood of pride, satisfaction and ownership of the event that helps to make the day so much fun for everyone involved.
To all the volunteers from one of our youngest members who helped hand out the pretzels to the racers, to the kids who hand dipped each one of those pretzels in chocolate, all the chefs who cooked the homemade food, the timing crews, the set up and take down crews, the groomers, and the people who collected and returned all the borrowed equipment…your willingness and ability to put into action what I just dream and plan makes my part easy….well done!
Special thanks must go out to those organizations outside the club that help us produce a quality event. In no particular order:
West Ottawa Soccer for the loan of the Gatorade tubs, thanks Shelley!
Paul's Pro Korners for the medals and ribbons, thanks Paul.
Professional Sound and Lighting for the sound system, thanks for the in-depth tutorial Rick.
Thank you, Megan Cornell, for inviting "The Pretzel Race" to be a part of Winter West. We look forward to participating again in the future.
Nakkertok Ski Club for the loan of their fencing and vee boards, thanks.
To the skijoring demonstrators, for coming out and giving us a glimpse of your sport….I suspect it may have inspired more than just a little interest! Thanks Heather and Dave.
To the Ski-Orienteering club who set up a mini course for everyone to try out, thanks Adrian and Stephan. I look forward to the bigger course February 27.
Jo-Ann Holden for coming out and taking and posting to her website (www.musicianonskis.ca/blog) such exciting photos of our event.
To each of the retailers who donated door prizes and the use of their pop-up shelters: Fresh Air, Trailhead, Kunstadt and Bushtukah, thank you!
Lastly, but certainly not the least a thank you has to go out to the parents who support their child's passion for cross country skiing. A sport for life!
Until next year, Shelagh Ryan

2011 Event Photos
This year we had the great fortune of having local photographer-musician-skier-coach Jo-Ann Holden at our sprint event.  Jo-Ann regularly photographs the major cross-country ski events in the National Capital region.
Jo-Ann voluntarily spent many hours parked trail-side with her camera aimed at the action and captured the day's events beautifully.
View all the images on her web site. You will want to return to Jo-Ann's web site often for her inspiring daily photo posts!
In addition there are images of the event, including the medal presentations, on Fickr,  courtesy of Nakkertok's Rob Smith.
Thanks to all the skiers, volunteers and spectators who made the 2011 Pretzel a super event! To view 2011 race results visit the

Zone4 web site

.
About the 2011 event:
There's a new venue for the 2011 Kanata Nordic Sprint Race: all the fun and excitement takes place Sunday Feb. 6th in the heart of Kanata at the Village Green Memorial Park in Beaverbrook located between Campeau Drive and the Parkway. The event will be part of the community's Winter West Festival. We'll have a sprint race or activity for everyone from Bunnyrabbits to Masters! Check the Race Notice for more details. Anyone interested in volunteering with event organization or a duty on race day, please contact Shelagh at event at kanatanordic.ca. Ample parking is available at the John Mlacak Community Centre, 2500 Campeau Drive and at the Earl of March High School at 4 The Parkway.

Click HERE to for Qualification Prologue Race Start List
K.N.S.R. "The Pretzel Race"
Kanata Nordic is pleased to offer the cross country ski community and the general public a day's event that includes a sprint race for ages Atom through to Masters, a bunny rabbit activity course, a fun team relay, a "weather permitting" skijoring exhibition, and a mini ski orienteering course to try.
SPRINT RACE 10 am to 3 pm
All of the other area races are distance events where each athlete arrives, warms up, races and is finished. A sprint race requires multiple short races spread over a number of hours. Each athlete is guaranteed a minimum of 2 races. Families should expect to be occupied for a minimum of three hours from receiving a bib at registration through to the elimination round. Racers who advance to semi and finals should expect to be involved for five hours.
The courses are of different lengths to accommodate the different developmental needs of growing athletes. To make the race interesting and challenging the courses cover slight dips and rises and ask the athletes to make several turns.
The first round is a qualifying round where the athletes are timed. This time will determine who they race against in the next round where advancement will be determined by place only. All heats will have a maximum of 4 racers .In the second round (elimination round ) two advance and two are eliminated. Eliminated racers are asked to leave their bibs at the finish line.
Most importantly at the end of the first round all racers receive their participation award in the form of a chocolate covered pretzel!
BUNNY RABBIT ACTIVITY COURSE 10 am to 11 am
Nestled against the bushes and close to the sprint courses our youngest members can try sliding down a gentle slope while ducking under a colourful garland giggling all the way…or threading a path through decorated pool noodles or reaching up to nibble at a powdered doughnut suspended on a string ….don't tell them they're learning coordination and balance…they're having too much FUN! No charge but please register so we know how many to expect.
FUN TEAM RELAY 11.15 am to 12 pm
At the conclusion of the first round of the sprint race many of our volunteers will have been on site since 6.30 am getting everything ready. We will break for lunch. During this time we organize a fun team relay. This is entirely optional and free of charge. All you need to do is register for it on Zone 4 so that we know how many people to expect. We will make up the teams mixing clubs, genders, ages and abilities as best we can to create fairly even teams where fun is the key word. This is a great way to get to know kids parents and coaches from other programs and other clubs. No prizes, no ribbons; just bragging rights!
SKI ORIENTEERING 1 pm to 2:30 pm
Now that you know how to ski and fairly fast too add quick thinking, map and compass reading  to your skills set and you might be ready for ski orienteering. These folks set a course where there are controls (check points) that you have to go to in the correct order at top speed to win the race. We have a very small and straight forward course set out for you to try. Members of Ottawa Ski Orienteering Club will be on hand to talk about their sport and help you navigate through the course.
SKIJORING EXHIBITION 2:30 pm to 3:30 pm
An exciting cross country ski sport where you ski while being pulled along by a dog in harness! These guys really fly! The dogs we might see are in serious training for an event later this winter so the snow must be cold and hard so they don't strain a shoulder muscle before their big race. For more information and to get a sneak peek go to www.skidogs.ca
OTTAWA RIVER CANOE CLUB
No, we won't be paddling across the snow! Kanata Nordic and ORCC joined forces for the first time this winter to run a training program for some of our athletes. Visit the booth to learn more about our winter successes and plans for the summer.
KITCHEN
When you need to come inside…
Coffee and muffins will be available during registration and until supplies last throughout the day for purchase. Our members have been busy cooking up pots of chilli, stew, baked beans and homemade soups for you to enjoy along with a dinner roll for lunch starting at 11 am and until supplies last. Hot chocolate, warm spiced apple juice, cold juice boxes, water, chips and cookies round out the menu.
LUCKY GUESS
By popular demand the "Guess how many chocolate pretzels are in the Jar" contest returns. Jar will be on display at the counter in the kitchen and guesses are $1.00 each. First correct guess wins the jar and all the pretzels! Good Luck!
SCHEDULE
6.30 am- 8.30 Set up inside and outside
8.30 – 9.30 courses open to ski registration and bib collection coffee and muffins available
9.30 courses closed
10 am First round of sprint race begins
10 am – 11 am Bunny rabbit activity course available
11 am first round of sprint complete pretzels given to each skier as they cross finish line.
11am to 12.15 Lunch Hot menu inside
11.15 to 12 pm Fun Relay on Football Track
12.15  – 1.15 Second round of sprints
1 pm – 2 pm Skijoring exhibition on football field track
1.15 – 3 pm semi and finals of sprint race
2 pm – 3 pm ski orienteering trial
3.30 pm awards for sprints
3.30- 7.30 pm take down, clean up and return of borrowed equipment
As you can see from this rough schedule some of our volunteers will have committed 12 hours to the day's activities added to the many, many hours that go into the planning of such an event. We are fortunate to have such a dedicated group of people who are passionate about their sport and we are very thankful to them for all their efforts.
Shelagh Ryan
2011 KNSR Director
Events Coordinator
Kanata Nordic Ski Club
.
.
Results for 2010 event, held on Sunday February 7th, 2010
Thank you to all who participated in the 2010 Kanata Nordic Sprint Race, skiers and volunteers alike! For results please click here. For a selection of photos from the event  click here.
February 3 UPDATE
The Kanata Nordic Sprint Race Committee would like to thank the Y camp and Peter Townsend for his time and efforts in transforming a barren, ice-encrusted and grass-stubbled training field back into a ski course complete with snow!
Ken Phillips, Katie Duivenvoorden, Clare Duivenvoorden, Neil Gilchrist, Shelagh Ryan, Tarik Wahab, Pat Kirkham, Ardeth Kirkham, Michele Charrier, Elyse Charrier, Tory Fraser, Adrian Turcanu, and Mike Duivenvoorden were among the many dedicated members who turned up to shovel and spread snow and then groom so that the Pretzel could be held this weekend. If I have missed anyone, let me know….it is not a slight… it was just so darn dark!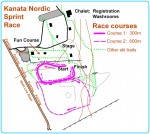 Despite the Herculean efforts on everyone's part, with the lack of snow and the tractor simply not able to access the return portion of course 2, we have had to modify course 2.The course will now extend from the top of the hill along the sailing club road and rejoin the training field closer to Sixth Line Road. This extension has caused course 2 to become 800m. For the new map of the course click here.
Shelagh Ryan, Race Director
REGISTRATION IS NOW OPEN!!
The Kanata Nordic Sprint Race is oriented towards young racers, Jackrabbits and other young skiers who wish to see what Nordic sprint races are all about. All skiers Junior age (17) and younger are welcome and no previous race experience is required. There will be two sprint courses, a 300 meter loop for the younger skiers and a 700 meter course for the older ones. Both events are Freestyle (Skate Skiing). All Jackrabbit levels are welcome, as well as those who are already racing. All participants are guaranteed at least two races. A special fun park will be set up for the Bunnyrabbits. All race participants will be awarded a delicious chocolate covered pretzel prize!
To start, get all the details from the race notice.
For a map of the course click here.
Then go to the Zone4 web site to register.
It is sure to be a fun and memorable day. Register soon as spaces are limited!
Sponsors
Again this year we are delighted to have Geoff and Bobbie McGowan, RE/MAX realtors, as the lead sponsors for the Kanata Nordic Sprint Race. A great community partner!

Professional Sound & Lighting
3-1675 Russel Road, Ottawa, Ontario K1G 0N1
613-736-5585
www.psl.on.ca
Archives
2009 Kanata Nordic Sprint Race, Febraury 22, 2009
2008 Kanata Nordic Sprint Race, February 24, 2008