News
New and noteworthy information about Kanata Nordic, the broader xc ski world and other topics of interest to our membership.
Our club in the news
Front page coverage of our Wesley Clover Parks initiative in the Feb 19, 2015 Kanata Kourier. And another related article from Feb 1 in Metro News.
Seen our Wesley Clover Parks video?
The Indiegogo campaign has ended — with $3915 raised! — but the video for it gives you an idea of the great new facility we're building.

The Trails at Wesley Clover Parks are now open!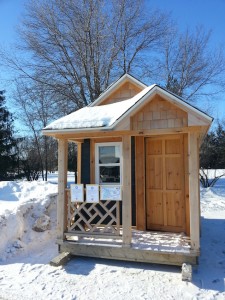 In a few short weeks we've been able to prepare 15 km of skate and classic ski trails meandering through this beautiful property at the eastern edge of Kanata. The entrance is at 401 Corkstown (the  equestrian park). Drive to the main parking lot and look for our charming little trailhead cabin.
Come check out the trails anytime. Kanata Nordic membership includes a pass for this season. To join the club, go to our Registration page or to get a ski pass (before Feb 12) simply donate to our Indiegogo fundraising campaign and select the pass as a 'perk'.
Members who haven't yet received their pass can contact Marlene.
For casual users, day passes are $5 per adult; children under 13 no charge. There are envelopes, a sign-in book and a fee collection box at the trailhead cabin. It's a honour system.
No walking, snowshoes or dogs on ski tracks — stay to the side opposite any groomed tracks.
No access to other buildings (the outhouse at the trailhead is for skiers and other trail users).
The trail map is posted at the trailhead cabin. You can also download it here.
In the coming weeks we'll be posting more maps and trail numbers throughout the trail network. Please be understanding as we put all the final touches in place for the season.
Be safe — don't ski alone. Enjoy the trails!
And let us know what you think.
Kanata Nordic is on the move!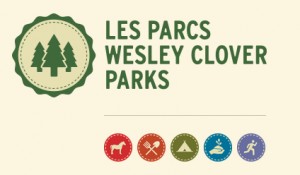 Dec. 30, 2014. As detailed in the General Meeting notice on the home page, we've begun our transition to Wesley Clover Parks (a.k.a. The Parks), the beautiful property formerly known as the Ottawa Municipal Campground and Nepean Equestrian Park, on Corkstown Road.
This is a season of plenty for our members. We're continuing to maintain and groom the great trail network at our usual home base at the Y while also putting in a lot of labour to prepare our Phase 1 trails at The Parks. As we do not yet have grooming equipment onsite at The Parks, grooming will happen in stages over the coming weeks. So please bear with us while we create and start to groom the best xc ski trails this side of the Ottawa River. Both trail systems were open for member use until the snow melted and will be again once the snow returns. Read more about the move in our news release.
NOTE that all trail users at The Parks will require a visible ski pass. Passes will be distributed to members during Saturday lessons in January and February, in the Vail building at the Y. For other arrangements contact Marlene Alt. Non-members will be asked to either buy a membership or purchase a day pass ($5) onsite each time they ski there (either by depositing the fee at The Parks main office or paying online with a link to be posted at the trailhead).
But we need your help…
Maintaining two locations this winter requires extraordinary resources from the club, both financial and voluntary.
Volunteer!
Remember how you had to indicate a volunteer role when you registered? Now's the time to step forward. If you can contribute an hour or an afternoon doing some outdoor labour or indoor support it would be greatly appreciated. Contact Mike Duivenvoorden or Marlene Alt to help out. On the other hand, we also need funding…
Donate!
We've launched a crowd-funding (Indiegogo) campaign to help offset our extra expenses this season: a new snow machine and groomer, insurance, storage, and the like. We hope all our members will show their support for this exciting new development by making a donation. Any amount is welcome! The campaign only runs until February 12. Check out the enticing perks.
Questions or comments? Please contact Relocation Committee chair Marlene Alt.
Registration is CLOSED for 2013-2014 season
Visit our Membership page for details.
New Waxing Guide
Our coaches have put together this waxing guide, with advice on what you'll need to buy and how to apply the waxes. You can purchase the tools over several seasons and the waxes themselves usually last a few years as well. Don't forget that several retailers offer club members a discount on any regular-priced item, so shop at Kunstadt, Bushtukah, Trailhead or Fresh Air Experience and save at least 10%.
Leaders, want to develop your own ski technique?
Kanata Nordic is offering two nights of on-snow technique instruction for our volunteer leaders, so you can work on your own technique. Amy Mark, one of our members and a highly accomplished skier, will be leading these sessions at the Y camp. Sessions will be offered Sunday Jan. 13 and Sunday Feb. 3, 2013 starting at 1:00 pm. No need to RSVP, just show up and meet near the Vail Building.
First Class First Aid Training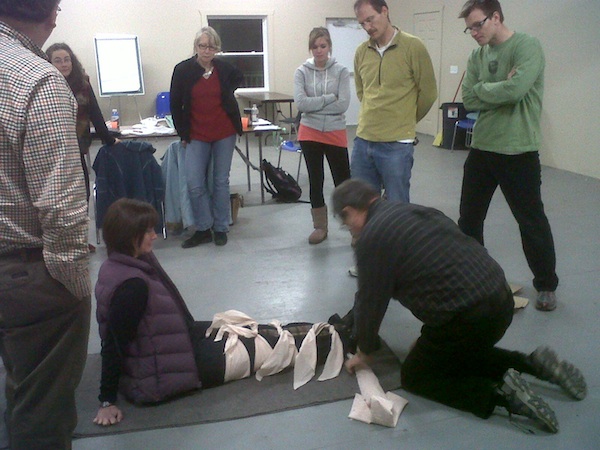 We are fortunate to again have Jim Trach, a highly experienced first aid responder and trainer, offering a first aid course club. Jim's courses are not only useful — he gears them to cover the most likely first aid situations for skiers — but they are also a lot of fun! Where else would you be able to pat down a ski club colleague who is feigning a mysterious injury, or split someone you've just met? As well, Jim has years of stories to share, including from his work at the Canadian Ski Marathon.
The course runs Friday Nov. 23, from 7:00-9:00 pm, and both Saturday and Sunday, Nov 24-25, 9:00 am – 5:00pm. It will be held at the Bonnenfant Y Outdoor Centre, in the Vail building.
Jim is offering the course at the very favourable rate of $75. Upon completion you will be a card-carrying St. Johns First Aid Responder. This course is open to anyone 14 years of age and over, including non-club members. Kanata Nordic will fully reimburse members who complete the course and also volunteer this season, in almost any capacity. For more details or to sign up please contact Richard Batty.
---
Follow us on Twitter
Social media + skinny skiing = Kanata Nordic on Twitter!
@KanataNordic. Nuf said.
Follow us and retweet often.
---
ORCC offering indoor family fitness winter program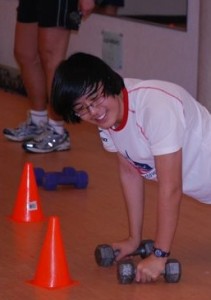 The Ottawa River Canoe Club (ORCC) invites all Kanata Nordic members to join their indoor fitness program this winter. Both kids and adults can participate and build fitness in a fun, family-oriented atmosphere. If you're wondering what it's like, drop by the first session on either the Monday or Wednesday (details below).
Program leader Andrea Nicholls is the Ontario Canoe-Kayak team's coach for fitness and conditioning and has led this program for ORCC for the last four years. If you are motivated to train, have a positive attitude, love a challenge in a fun environment, and can do 10 push-ups (from knees or toes) this program is for you!
The one-hour classes are available Monday evenings at Bell High School and Wednesdays at West Carleton Secondary School at either 6:00pm or 7:00pm both nights. Programs start November 7th and costs only $140 for the entire winter (until March). For more information and to register visit the ORCC web site.
---
Heinz Niederhauser, former Kanata Nordic coach, to be inducted into Canadian Ski Hall of Fame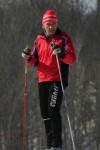 On November 2nd the Canadian Ski Hall of Fame will be inducting six remarkable Canadians including, from the xc ski world, Olympian Becky Scott and Heinz Niederhauser, who coached at Kanata Nordic and played a critically important role as a cross-country coach at all levels, from the early 1970s until his death in 2008, at age 72.
You can read more about Heinz in our December 2010 newsletter. The induction ceremony and banquet will be held from 5:00 pm to 10:30 pm, at the Chateau Cartier, in Gatineau, Quebec. For more details visit the Ski Museum web site.
---
A $500 'Thank You' from OFSAA
In May 2011 Kanata Nordic was delighted to receive a $500 donation from the Ontario Federation of School Athletic Associations (OFSAA). The donation was made in recognition of Kanata Nordic's support of the OFSAA Nordic Skiing championships held in March and hosted locally. Kanata Nordic contributed by purchasing an ad in the event program, loaning our walkie-talkies, and providing a number of volunteers and Committee Members, including Harris Kirby, the Kirkham family, Ari Niemi, and the event's Co-Convenor Cam Jones.
There were also a number of Kanata Nordic skiers at the championship, racing for their schools, including Alex Bergstrom, Holly Brown, Brendon Howard, Heather Kirby, Jonathon MacAskill, Cavan McCue, Brandon Paul, Jonathan Roscoe, and Jaden Tout.
The cheque was awarded to the club by event Co-Convenor Robert d'Arras, who is also a guide for Kanata Nordic paranordic racer Margarita Gorbounova. The money is earmarked for our skier development program for youth. As Robert stated, "It was our pleasure to provide a small return to Kanata Nordic in recognition of all Kanata Nordic did for us. The cheque was our way of saying thank you."
---
Local Skijorers Report in from the World Championships in Norway, March 2011
Courtesy of skidogs.ca: At the World Championships, held in Norway in March, there were several events in which the Canadian team participated. There was two-dog skijoring, one-dog skijoring, pulka, Nordic combined, and the relay. This TV streaming video special shows the "Nordic Combined" event, which is a 15km race, comprised of four laps of a 3.75 km trail. The first two laps are pulka racing, where the dog pulls a low sledge that is weighted to 70% of his weight, while the skier skis.
Then there is a triathlon-like transition (the clock is still running), where the pulk is unhitched, then the team does two more laps skijoring. The video shows the men's race first, then the women's, then it goes on to show two dogsledding events afterwards. The event is held at the famous Holmenkollen nordic ski arena.
---
Gold for Canada in Norway!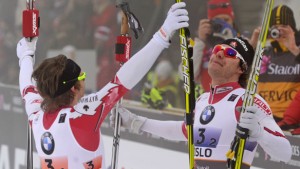 Alex Harvey, right, and Devon Kershaw made Canadian history in Oslo. (Odd Andersen/AFP/Getty Images)
Cross-country skiers Alex Harvey and Devon Kershaw won Canada's first gold medal in the history of the Nordic skiing world championships on Wednesday March 2, 2010 when they took the men's classic-style sprint relay in Oslo, Norway. Watch the thrilling finish! You don't need to understand Norwegian to catch the excitement.
---

Cross-country Skiing Won't Wipe Out Your Budget
Cross-country skiing take you through unspoiled wilderness in a gentle way that no other winter activity can.
It remains an inexpensive outing for the entire family that is unrivaled for its fitness benefits.
But you already know that!
Read all about it in The Star.
---
New Co-op Training Program with the Ottawa River Canoe Club
Sept. 2010: This fall and winter Kanata Nordic and the Ottawa River Canoe Club (ORCC) have partnered for the first time to offer a co-op training program for youth (racers, primarily) and adults. The program is meant to encourage paddlers to train through the winter by participating in our on-snow programs, and provides our skiers with expanded options for pre-season dryland training and indoor strength and agility training all winter. Youth interested in racing with Kanata Nordic should register through our regular Zone4 registration process. Adults interested in ski lessons should consider the ORCC's Monday night program, as the Kanata Nordic learn-to-ski program is full for the season, though as of this posting the Intermediate Touring program still had spots. To learn more about the ORCC programs visit the Ottawa River Canoe Club web site.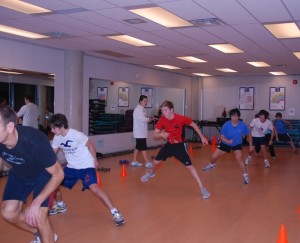 Read more in the Dec. 2010 newsletter: We interviewed Adrian Turcanu, a member of Kanata Nordic and the Technical/Coaching Director of the ORCC, about this action-packed new program.
---
Petition to Revive Old Gatineau Park Trail Names
In the 1970s the NCC discontinued the use of trail names for the xc ski trail network, marking trails and maps with numbers instead. In recognition of the heritage of the trails, many of which predate the establishment of Gatineau Park, and for the enjoyment of Park users, we respectfully request that the NCC reinstate the use of the old trail names… Sign petition here
---

---