Equipment Rentals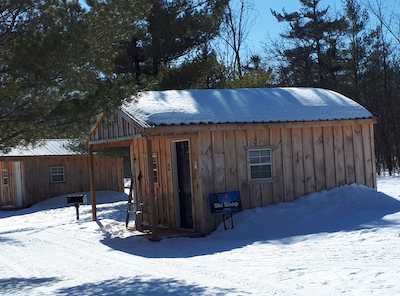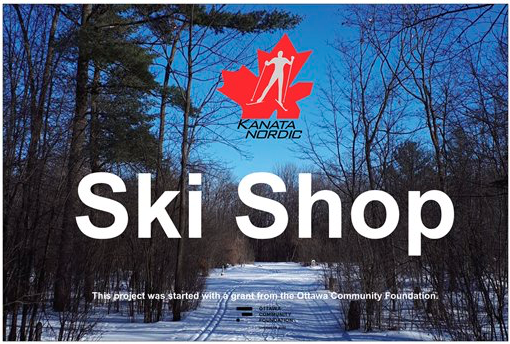 2020-21 Ski Season
Kanata Nordic has a small fleet of rental ski packages, snowshoes, and headlamps. The ski shop is accessed from the main Kanata Nordic entrance on Corkstown Road (just down the hill from 411 Corkstown and the campground). Look for the tall red flag (the equestrian entrance at 401 Corkstown is the wrong one). DO NOT trust Google as it will direct you to the club's mailbox on the other side of Kanata. The shop is located in Cabin D, in front of the chalet (see trail map) and you can drive through the parking lot (stay right) and around the bend where you'll see the shop. You can park at the side of the road as long as you're not blocking through traffic.
The rental equipment was made possible by a generous grant in autumn 2018 from the Ottawa Community Foundation.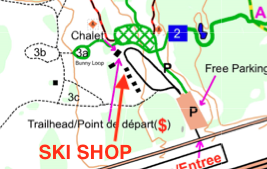 OPERATING HOURS
MARCH 2, 2021:
RENTALS ARE NOW FINISHED FOR THE SEASON. Note that we don't sell our equipment and we hope to expand our stock and our operating hours next winter. Grooming continues as long as there's enough snow.
We are offering rentals by appointment, on weekend mornings only. You don't have to be a member of Kanata Nordic. The process will be conducted entirely outside and will follow all current public health protocols. If you are interested in rentals please see below for what's generally available and email pastpresident@kanatanordic.ca to book a time. Replies may take a day or two. BOOKINGS ARE VERY LIMITED AND REQUIRE 1-2 DAYS NOTICE.
Volunteers needed! Our little rental shop is in need of volunteers. Retail experience would be nice but more important is a helping attitude and knowledge of our trail network and skiing (ideally both classic and skate techniques). Hours are flexible but likely some mid-week and weekend mornings. We'll train you. Interested? To find out more contact pastpresident@kanatanordic.ca.
---
Rental Prices
| | | |
| --- | --- | --- |
| Rentals | 2 Hours | Full Day |
| Adult classic ski package | $20 | $28 |
| Adult skate ski package | $25 | $35 |
| Youth and children classic ski package | $15 | $20 |
| Youth skate ski package | $20 | $25 |
| Adult snowshoes | $10 | $20 |
| Youth and children snowshoes | $7 | $15 |
| Headlamps | $2 | $5 |
| Boots only (adult or child) | $8 | $8 |
| Skis only, classic (adult or child) | $10 | $10 |
| Skis only, skate (adult or child) | $15 | $15 |
| Poles only (any size) | $6 | $6 |
Weekly rentals also available. Prices include all taxes. Payment by cash, credit card or debit.
Non-members require a day pass to use the trails.
---
Special thanks to our headlamp sponsor:
Cory Garlock CFP, PFP, CIM, FCSI Investment Advisor
TD Wealth Private Investment Advice
T: (613) 783-3362 cory.garlock@td.com