Trail Conditions
Beginning January 9, 2021, weekend access to Kanata Nordic trails will be reserved for MEMBERS ONLY.
Read about skiers ski experiences on XC Ottawa to learn more about the current conditions.
Trail Map
Gate Hours
Gate times at both 401 Corkstown (the equestrian park) and 411 Corkstown (up the hill at the red Kanata Nordic flag):
Open at 7:30am
Close at 10:00pm
7 days a week when the trails are open / Ensure your vehicle is out by 9:55pm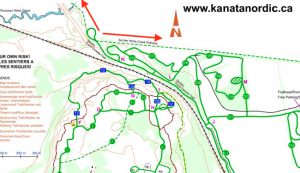 New Feb 2020! We are now grooming the Watts Creek trail from Moodie Drive (eastern end) to March Rd (western end) as a pilot project. Priority is still given to the trails on Wesley Clover Parks property, so Watts Creek will be groomed less often. It's a multi-use pathway, welcoming bikers, walkers, snowshoers and skiers. Access to Watts Creek is from the trailhead at 401 Corkstown Rd. Anyone keen to see this pilot project become a permanent part of the trail network, with regular grooming, please contact us to learn how you can volunteer to help.
---
We ask that you please respect the trails which means no fat-biking, bicycling, or walking, and no snowshoeing on groomed ski trails. Dogs are not permitted on any trails. Also, please respect other Wesley Clover Parks partners doing outdoor activities in the area so we can all enjoy Ottawa winters.
We share the Parks with the Forest and Nature School, which operates year-round and is located north of the campground area. Classes are run largely outdoors, so please help the school maintain its privacy and security by staying clear of their access road, structures (including their porta-potty), and activities.
Click here to read full trail etiquette information.