Trail Conditions
Beginning January 6, 2024 ….weekend access to Kanata Nordic trails will be reserved for MEMBERS ONLY as there will be programs running.
Dec 4, 2023:  There is snow on the ground, but grooming operations will need to be coordinated and started up. The snow is wet and warm, and very difficult to groom at this time. 
We will update as we get our grooming operations underway.  As temperature drops we will assess if some trails can compacted with a roller starting with the OWWT due to its paved base.
Read about skiers ski experiences on XC Ottawa to learn more about the current conditions.
Trail Map
Gate Hours
Gate times at both 401 Corkstown (the equestrian park) and 411 Corkstown (up the hill at the red Kanata Nordic flag):
Open at 7:30am
Close at 10:00pm
7 days a week when the trails are open / Ensure your vehicle is out by 9:55pm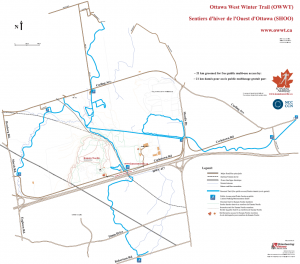 New Jan 2023! We have expanded the free public Ottawa West Winter Trail (OWWT) (formerly known as the Watts Creek trail) to include: some loops off the "Rifle Rd spur", the DND Loop, and most significantly, Watts Creek pathway east to Carling Ave. The section west to March Rd will be groomed less frequently this winter due to an issue with one of the bridges south of 19th Tee. Please see the trail map found here or at www.owwt.ca. Access points are shown on the map. The OWWT is a multi-use pathway, welcoming fat bikers, walkers, dog walkers (on leash), snowshoers and skiers. Please do not walk or bike on the classic ski tracks.
---
We ask that you please respect the trails which means no fat-biking, bicycling, or walking, and no snowshoeing on groomed ski trails. Dogs are not permitted on any trails. Also, please respect other Wesley Clover Parks partners doing outdoor activities in the area so we can all enjoy Ottawa winters.
We share the Parks with the Forest and Nature School, which operates year-round and is located north of the campground area. Classes are run largely outdoors, so please help the school maintain its privacy and security  by staying clear of their access road, structures (including their porta-potty), and activities.
Click here to read full trail etiquette information.