Welcome to Kanata Nordic Ski Club
Coaching Job Opportunity with XC Chelsea Masters
XCCM Head Coach Job Notice – Deadline July 31st
XC Chelsea Masters is looking for a part-time Head Coach. The Head Coach is responsible for designing the club's ski programs in collaboration with the Board of Directors and delivering the programs with a team of assistant coaches. This is a contract position from Sep 1, 2015 to Aug 31, 2016. The coaches' working hours vary according to the team practices, races, camps, fundraising events, meetings, and administrative work required and should be determined in September in discussion with the President and Treasurer. The rate of pay is $40 per hour.
Reports to: President, XC Chelsea Masters
Club Mission: The XC Chelsea Masters is a non profit organization and a club for both competitive and recreational masters cross-country skiers (i.e., age 30, give or take a few years, and up) with activities that take place in Chelsea and Gatineau in Quebec, and in Ottawa, Ontario. It offers a structured training program that is designed to bring masters skiers to a fitness level and technical ability that will allow them to improve their performance in ski races, ski loppets, touring events and recreational skiing. The club's objectives are to: To develop and promote Masters racing; to encourage and promote cross country skiing as a lifelong sport and one of the best activities for adults to stay fit and active; to support the cross country ski community at large, including Cross Country Canada, in the promotion of the sport for recreation and competition; to help promote the protection of our parks, green space, and wilderness for low impact recreation such as cross country skiing.
Responsibilities:
Planning and Management
• Design and develop the club offerings (e.g. program planning) in coordination with the Board of Directors and other club coaches.
• Assist in preparing a program budget for the club and determine prices for program offerings.
• Prepare professionally written training plans (on a monthly basis) and adjust as necessary using feedback from the President, other coaches and athletes.
• Timely distribution of the training plans to the coaching staff and to members that have purchased them in coordination with the Communications director.
• Provide the communications director with descriptions of the training plans for the website and other communications.
• Attend regular board meetings and the annual AGM.
Managing Coaching Staff
• Recruit and hire coaches for each program component (e.g. dryland, roller skiing, strength, yoga, skiing, training camps, races).
• Execute coaching agreement letters with all coaches.
• Maintain a current record of coaches contact information and a substitute coaches list.
• Schedule the coaches and maintain a coaching calendar. Anticipate when to schedule swing coaches for busy practices.
• Ensure that practice plans are prepared for each practice (by head coach or by assistant coaches) and these are distributed to the coaches 2 days in advance of practices.
• Determine location of practices. Communicate with assistant coaches on practice plans and locations. Post the practice details on the website one day in advance whenever possible.
• Track coaches' hours. Request invoices from coaches for payment.
• Ensure coaches follow the training program during training sessions.
• Hold coach-the-coach sessions in fall and winter.
• Hold coaches' meetings as needed (e.g. before fall session starts, before winter session and end of year).
• Assist in determining which applicants receive the coaching bursary.
• Obtain feedback from club members and coaches frequently on the efficacy of the program, monitoring for improvements
Equipment
• Determine what training or club equipment is needed for dryland and on snow.
• Ensure appropriate equipment is purchased, stored, and maintained.
• Ensure that that training equipment is transported to and from the training locations.
Training Camps
• Determine with the Board of Directors the need for, location, dates, accommodations, facilities, training program and break even budget for any training camps (e.g. summer, fall, winter). Work with the Travel Director for all bookings.
• Design and develop all communication and written materials for the training camps. Work with the Communications Director.
• Hire coaches for the training camps. Ensure the budget and expenses of the camp are taken care of. Work with Treasurer for all disbursements.
Racing
• Update the racing calendar on the website with the Communications and Racing Director.
• Establish designated races for the club.
• Hire coaching and waxing support for the club designated races and arrange for all club waxing equipment to be available for such races.
• Assist in communications regarding club designated races.
• Assist the Racing Director with the organization of the Club's race.
• Assist the Travel Director with travel to destination races, establish optimum schedule for travel, training, waxing, etc.
• Provide coaching and waxing support at races where possible.
Ad Hoc Training Sessions
• Plan classroom or outdoor training sessions as needed (e.g. mental training, waxing, extra technique, video analysis, yoga, injury prevention and treatment, nutrition, training equipment, race planning, race tactics and strategies, etc.).
Qualifications
• Experience with coaching or instructing adults in cross country skiing.
• NCCP coaching certification (minimum of Community Coaching), CANSI certification (minimum of level 1) or other national coaching certification.
• Experience with waxing at cross country ski races.
• Personal experience with classic ski racing, skate ski racing, and roller skiing.
• Excellent interpersonal and communications skills.
• Excellent time management and organizational skills, as well as the ability to manage and prioritize multiple tasks.
• Ability to work as a team player with volunteer board members, other volunteers, and hired coaches.
• Ability to produce polished communication in written and oral form and knowledge of social media.
Assets
• A First Aid-CPR "C" certificate
• Strength and conditioning coaching certification
How to Apply
Please send a cover letter explaining your interest, experience and how you meet the job requirements, along with your CV to the club President at kuziakn@sympatico.ca.
Application Deadline: July 31, 2015
---
Summer 2015 Dry-land Training Program
Kanata Nordic's racing program is offering a summer dry-land training program Friday's at 6:30 PM from May 15 to August 28th for experienced skiers planning to race during the 2015-16 competitive ski season. The goal of the training program is to develop strength, endurance and ski specific skills in preparation for the upcoming ski season.  Coaches will use a variety of methods — running, roller skiing, agility and strength development activities and drills in the 90-120 minute sessions that will take place at Richcraft Recreation Centre Kanata or Wesley-Clover Parks.
When: Friday May 15th to August 28th 2015
Time: 6:30 PM (90 to 120 minutes)
Price: $79.00 (Kanata Nordic membership required)
Registration, equipment requirements & details: https://zone4.ca/reg.asp?id=9134
If you have any questions about the program or whether this program is right for you or your athlete, please contact Racing Coordinator Jim Lambley
---
The Kanata Nordic AGM was held on
Date: Thursday March 26, 2015
Time: 7 PM to 9 PM
Location: Vail Building at the YMCA YWCA Bonnenfant Center.
Address: 1620 Sixth Line Road., RR #1 Dunrobin, Ontario.
Skiing at Wesley Clover Parks and not a member of Kanata Nordic?
Your best deal is a late season ski pass for only $15. We'll groom as long as we can and you can ski as much as you like! Simply go to our PayPal page to purchase the pass.
You can also pay a $5 drop-in/day use fee. Just put the fee in the new, ultra-secure lockbox at the little trailhead cabin. Children under 13 years old can ski for free.
Questions or comments? Please contact wesleycloverparks@kanatanordic.ca.
Trail maps and conditions
Y/Sheila McKee Park: For the current trail conditions click here. For a trail map click here.
Wesley Clover Parks: For the current trail conditions click here. For a trail map click here. NOTE: we're experimenting with new trails and have groomed some just south of the main parking lot which are not yet on the map.
---
2015 Pretzel Results are posted on zone4
link http://zone4.ca/results.asp?id=7334
2015 Kanata Nordic Pretzel Sprints is on Sunday Feb. 22
The race notices are posted here: English- here, French- here. For registration go to Zone4 to register. Registration deadline is Friday Feb 20 at midnight.
Photo from the 2015 Gatineau Loppet
Alexei Novikov adjusting his goggle.
Athletes put Kanata Nordic Ski Club in the news
Congratulate Andrew Hayman and Philipe Turcanu at the Eastern Championships. Read more from sportsottawa.com link.
The Trails at Wesley Clover Parks are now open!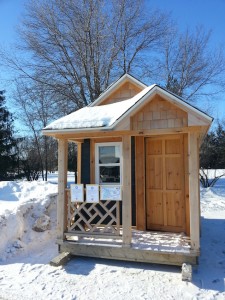 In a few short weeks we've been able to prepare 15 km of skate and classic ski trails meandering through this beautiful property at the eastern edge of Kanata. The entrance is at 401 Corkstown (the  equestrian park). Drive to the main parking lot and look for our charming little trailhead cabin.
Come check out the trails anytime. Kanata Nordic membership includes a pass for this season. To join the club, go to our Registration page or to get a ski pass (before Feb 12) simply donate to our Indiegogo fundraising campaign and select the pass as a 'perk'.
Members who haven't yet received their pass can contact Marlene.
For casual users, day passes are $5 per adult; children under 13 no charge. There are envelopes, a sign-in book and a fee collection box at the trailhead cabin. It's a honour system.
No walking, snowshoes or dogs on ski tracks — stay to the side opposite any groomed tracks.
No access to other buildings (the outhouse at the trailhead is for skiers and other trail users).
The trail map is posted at the trailhead cabin. You can also download it here.
In the coming weeks we'll be posting more maps and trail numbers throughout the trail network. Please be understanding as we put all the final touches in place for the season.
Be safe — don't ski alone. Enjoy the trails!
And let us know what you think.
---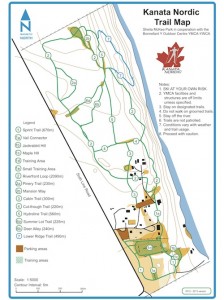 Trail Map for Sheila McKee Park/Y Bonnenfant Centre
Continuing in 2014-15, Kanata Nordic is based at the YM-YWCA Bonnenfant Outdoor Centre and the
neighbouring Riverfront Park at 1620 Sixth Line in rural Kanata. Our trails run
through acres of woodlands bordering the Ottawa River. Click on the image for the trail map.
Club Brochure
For more details click on the image for our brochure.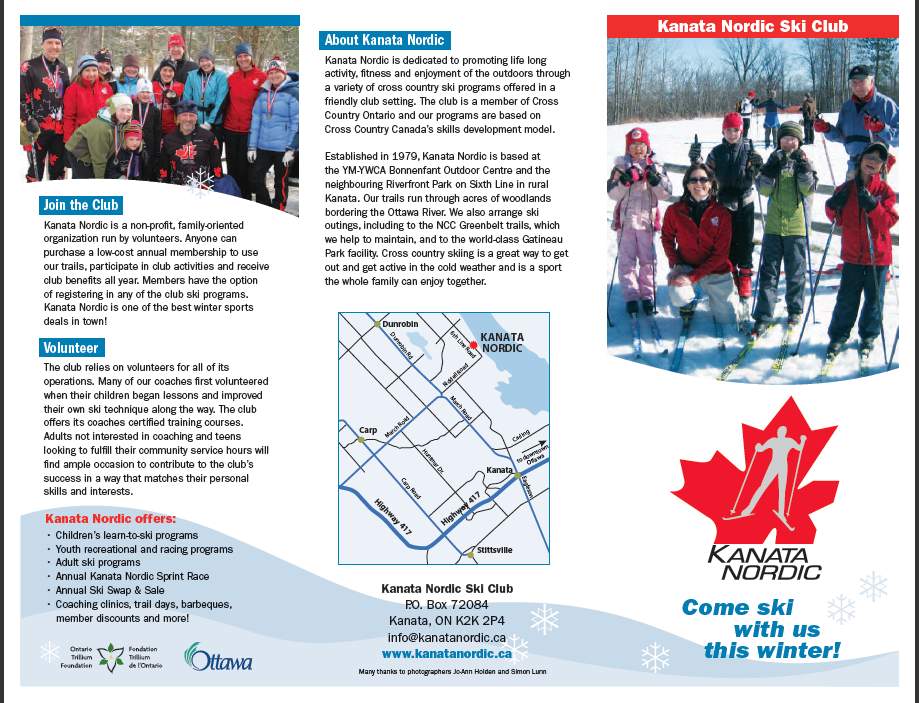 ---
Kanata Nordic is on the move!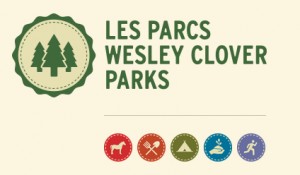 Dec. 30, 2014. As detailed in the General Meeting notice below, we've begun our transition to Wesley Clover Parks (a.k.a. The Parks), the beautiful property formerly known as the Ottawa Municipal Campground and Nepean Equestrian Park, on Corkstown Road.
This is a season of plenty for our members. We're continuing to maintain and groom the great trail network at our usual home base at the Y while also putting in a lot of labour to prepare our Phase 1 trails at The Parks. As we do not yet have grooming equipment onsite at The Parks, grooming will happen in stages over the coming weeks. So please bear with us while we create and start to groom the best xc ski trails this side of the Ottawa River. Both trail systems were open for member use until the snow melted and will be again once the snow returns. Read more about the move in our news release.
NOTE that all trail users at The Parks will require a visible ski pass. Passes will be distributed to members during Saturday lessons in January and February, in the Vail building at the Y. For other arrangements contact Marlene Alt. Non-members will be asked to either buy a membership or purchase a day pass ($5) onsite each time they ski there.
CHECK OUR WESLEY CLOVER PARKS BLOG FOR THE LATEST INFORMATION
But we need your help…
Maintaining two locations this winter requires extraordinary resources from the club, both financial and voluntary.
Volunteer!
Remember how you had to indicate a volunteer role when you registered? Now's the time to step forward. If you can contribute an hour or an afternoon doing some outdoor labour or indoor support it would be greatly appreciated. Contact Mike Duivenvoorden or Marlene Alt to help out. Questions or comments? Please contact Relocation Committee chair Marlene Alt.
Trails at the Y camp are now open.
Visit the Trail Conditions page for details. Enjoy!
General Meeting, Nov 30, 2014 at 4pm
Notice of General Meeting on Nov 30, 2014
Good evening on behalf of the Kanata Nordic Executive on November 20, 2014
We have plenty of exciting news!
As many of you know we have been in discussion with the Wesley Clover Foundation (WC) over the past year or so with regard to the possible relocation of Kanata Nordic to the property adjacent to Corkstown Road  (campground and equestrian fields) which WC  has recently taken over through a long term lease. Following our recent meeting with WC we are now in a position to provide an update as to our progress.
Our Ad Hoc Committee prepared a Business Case for this proposed relocation which was reviewed and received with great enthusiasm on the part of WC.  Our  Business Case proposes a three phase transition to relocate KN to these WC properties.
Phase One:
This would be the initial transition year which would happen this winter 2014 /15 and  would see KN do some limited grooming at WC while still grooming our regular trails at the Y.  As for programs some of the older kids (Racers and possibly some Track Attack) activities would happen at WC and we may have an opportunity to stage some special events depending on the extent of the trails and facilities. All of our other Saturday afternoon programs: Bunnies, Jack Rabbits,  Dyna Rabbits, Teen Ski Fit and Racing Rabbits and Adult Learn to Ski programs will remain at the Y for this winter.
Phase Two:
If all goes well we expect Phase Two to begin  next year winter of 2015/16 and it could last two or three years depending very much on the expansion of trails, availability of facilities and the development of the WC Master Plan which will impact our development as well.
The key element at the outset of Phase Two would see a complete relocation of all our programs and activities to WC which will become the new home of KN as the resident Ski club on site. During this Phase we expect some expansion of the trail system and we would have access to one of the existing buildings for our Saturday programs. The grooming would probably be shared as we implement the the gradual transition of grooming responsibilities from KN to WC.
Phase Three:
With the ongoing evolution of the WC  Master Plan for the development of the entire area, we expect Phase Three will be a few years from now as WC confirms long term details such as the development of new trails in the forest areas, location of new buildings and related facilities etc etc and how those will fit with our development and expansion at the new site. One objective which we have emphasized in Phase Three is the need for WC to assume responsibility for the infrastructure which would include maintenance and grooming of  trails, along with upkeep of facilities and equipment, the details of which will have to be worked out.  Over the long term this will allow KN to focus on the provision of a full range of ski programs and special events such as racing.
In the best of all worlds over the long term we would hope to see facilities such as a play park for the younger skiers, a designated clubhouse facility during the ski season and even a stadium like facility to host major race events. This will require a long term agreement which will take the Executive considerable time to prepare and  negotiate with WC and may well go through several iterations as the overall WC site is developed.
In the meantime for this coming winter season (Phase One) we have prepared a Memorandum of Understanding (MOU) with WC which our Executive has just approved at our meeting on Nov 17, 2014.  As this effects the future direction of the Club we require the general membership to approve in principle the relocation of KN to WC, leaving the subsequent negotiation of the long term agreement in the hands of the Executive on behalf of the Membership.
To that end we will convene a general meeting of the membership on Sunday November 30, 2014 at 4 PM at the meeting room at Dymon Storage (at the Centrum across from Canadian Tire). Some of you may have already seen the notice of this meeting which has been posted on our web site since November 15th, 2014. At the meeting we will have members of the Ad Hoc Committee and the Executive to do a brief presentation and respond to any questions you may have.  We will also be seeking separate approval of the purchase of new grooming equipment which is needed to carry out our grooming duties.
These are exciting times for Kanata Nordic! This relocation is a once in a lifetime opportunity for us to grow and develop the Club and to expand our trails system and facilities into a first class destination ski area with the potential to become a world class ski venue over the long term.
As additional  information becomes available I will provide further updates to the membership.
Thank you,
Richard Batty
President, Kanata Nordic.
2014-2015 Ski Swap and Open house NOV 22
Kanata Nordic's 2014 Ski Swap and Open House is fast approaching. Rain or Shine, it is scheduled for Saturday November 22 2014 from 10:30am to 1:00pm. The event will be held in the Vail Building , Bonnefant YMCA Outdoor Centre, 1620 Sixth Line Road.

Below is what we currently have planned for you, but check back frequently for any updates.
Here's a sneak peak of the planned events:
Ski swap – sell your unwanted gear and pick up some great second-hand deals; more details are on the Ski Swappage
Club clothing sale – great new tights and jerseys from Louis Garneau; more details are on the Clothing page
Jackrabbit activities – fun and games for the 10 and under set, lead by our senior skiers, from 

11:15 am to 12:00 noon

. Please arrive at 

11:00 am

.

Membership drive – we are always looking for new members to join the Club, so bring a friend; lots of knowledgeable Executive members on hand to answer questions

Ski Waxing at a great price of $10.00 per pair of ski

Fresh Air Experience and Kunstadt Sports will also be onsite


Refreshments – hot soups,  beverages and snacks to finish off the morning

And we are working on a few other events. We will continue to update list of events as we finalize them; So check the website.

All are welcome, whether you're already a member or want to learn more about the club and its programs. We look forward to seeing everyone so book this in your calendar now.

Questions or want to help with the event?  Contact Lily Yip, Event Coordinator at kanatanordicevents@gmail.com
2014-2015 Program Registration is now OPEN
Find all the program information in the links in the left margin, or Programs at the Glance (revised.Sept 25) to see this year's new prices and dates. Note that 10-13 years old skiers can now join the racing program (racing rabbits) or non-competitive program (track attack), or if new to XC skiing Dynarabbits. Otherwise Adult and Children's program are pretty much the same as last year. On snow programs are run at 1620 Sixth Line Road, Dunrobin, the Bonnenfant Y Outdoor Centre.
If you have already checked and are ready to register go to ZONE4 NOW.
2014 AGM is on Tuesday March 25, 2014
The AGM will be held on March 25 at 7pm at the YMCA outdoor center. The meeting will be at the Veil building. All members are welcome and encouraged to attend.
Agenda: March 25th, 2014 AGM Agenda
Minutes: April 15, Minutes for 2013 AGM
We're on TV Sunday March 9, 2014
The sporting event of the season, no not the Olympics, the PRETZEL race, will be broadcast on Rogers Cable on Sunday. Set your VCR/PVR for Sunday March 9 at 2.00 PM, Rogers Cable 22.
Banquet is on Sunday March 30, 2014
This year the annual banquet is on March 30. The location is Kanata Legion Hall (branch 638) on Hines Road. Details on how to purchase ticket (paypal) and the dinner menu will follow. Stay tune for details.
JR fun day was held on Saturday Mar 1st
The Olympic theme fun day this year was well attended, thanks to everyone who helped to make this a really fun day for the JR.
Another successful Pretzel Race:  Sunday Feb 23, 2014
Our annual sprint race was be held on Sunday Feb 23, 2014. Thanks for the supports from everyone to make this another successful Pretzel Race. Congratulate all the racers who participated. Final results will be posted later. Don't forget to check out the broadcast of the race at the local community channel.
The race notice is here.
The race day schedule is here.
The start list is here.
To register following this link https://zone4.ca/reg.asp?id=6303 or search for kanata sprint race in zone4.
Welcome from the President
A welcome message from Richard Batty, view pdf
All 2013-2014 Bunnies, Jack Rabbits, Teens and Adults programs begins on Jan 4 … That is Sat. Jan 4, 2013 at 1:30pm at YMCA outdoor center on Sixth Line.

Cross training with the ORCC
Here is additional training opportunity offered by ORCC winter programs.
---
Follow us on Twitter!
Social media + skinny skiing = Kanata Nordic on Twitter.
@KanataNordic. Nuf said.
Follow us and retweet often.
---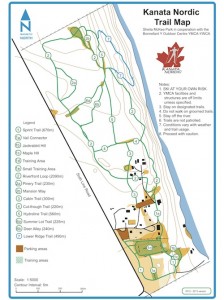 New Trail Map for 2013-14 Season
Click on the image on the left for a larger view of our new trail map, updated as of November 2013.
Many thanks to Stefan Bergstrom of the Ottawa Orienteering Club for his help in creating this great new map.
The maps are posted trailside at major intersections and entry points.
---
Club Brochure
Click on the brochure below to download a PDF version.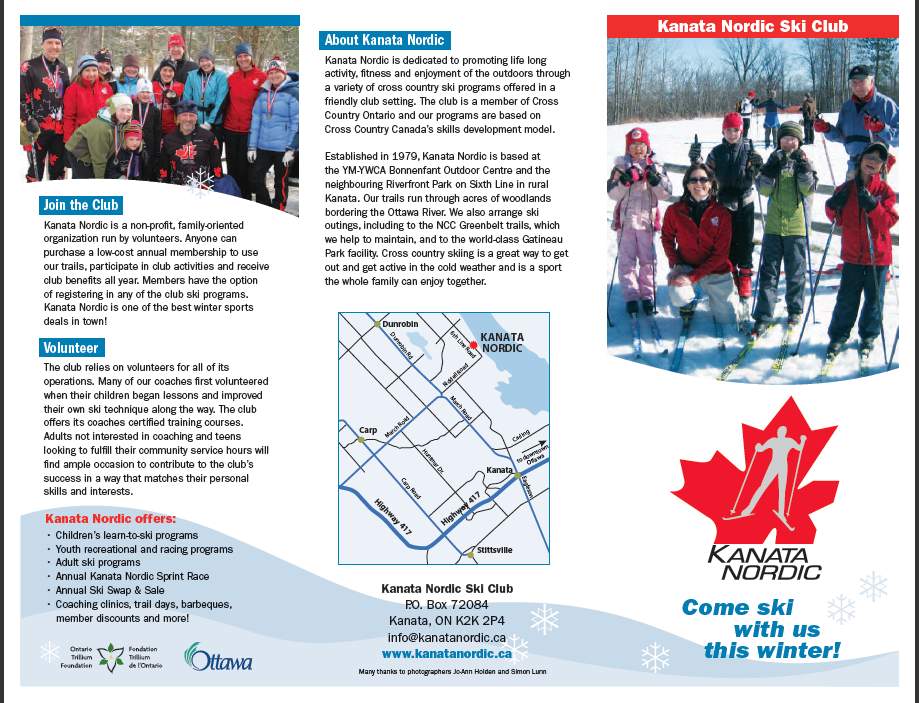 ---
Kanata Nordic receives funding and support from
The Ontario Trillium Foundation and the City of Ottawa.