Welcome to Kanata Nordic Ski Club
Notice of General Meeting
Take Notice that a General Meeting of the members of Kanata Nordic (Kanata Cross Country Ski Club) will be convened at 7:30 PM on Tuesday Nov 26,2013 at the Board Room of Dymon Storage  opposite Canadian Tire across from the Centrum.
Background
Our current Bylaws limit an expenditure by the Executive to 3K or less without the approval of the membership and we are about to enter into a lease with the YMCA Bonenfant Centre for which the second year payment exceeds this 3 K limit being $3955 . ( 3500 + HST).   The first year payment for the lease is within our 3K limit being $2825 ( 2500+ HST)
It has also been noted that this 3 K limit has been in place for a number of years and should be updated in our Bylaws to contemporary levels.
Purpose  of Meeting
Therefore the purpose of this General Meeting will be to ask the membership to consider and approve two separate motions as follows:
1) Approving a lease payment in the amount of $3955,  ($3500+HST) being the second year payment of a two year lease we are about to enter into with the YMCA Bonnenfant Centre.
2)  Amending section 4.4 of the Bylaws by increasing the current 3 K expenditure limit to 5 K without membership approval.
Notice posted this 11 day of November 2013
2013 Ski Swap and Open House
Kanata Nordic's 2013 Ski Swap and Open House is fast approaching. Rain or Shine, it is scheduled for Saturday November 16 2013 from 10:30am to 1:00pm. The event will be held in the Vail Building, Bonnefant YMCA Outdoor Centre, 1620 Sixth Line Road.
Here's a sneak peak at the planned events:
Fresh Air Experience – visit the experts from Fresh Air where you can learn about ski waxing and about clothing to keep you comfortable for outdoor winter activities. Look for the Fresh Air tent.
Trail tour – a self guided tour of our trail network using our super new map.
Ski swap – sell your unwanted gear and pick up some great second-hand deals; more details are on the Ski Swap page
Club clothing sale – great new tights and jerseys from Louis Garneau; more details are on the Clothing page
Jackrabbit activities – fun and games for the 10 and under set, lead by our senior skiers, from 11:15 am to 12:00 noon. Arrive at 11:00 am.
Membership drive – we are always looking for new members to join the Club, so bring a friend; lots of knowledgeable Executive members on hand to answer questions
Refreshments – hot beverages and snacks to finish off the morning
Canadian Ski Marathon (CSM) – visit the CSM table and learn about the upcoming 48th Annual CSM. The CSM has distances to suit all skill levels and ages: recreational skiers, youth, kids, families, and endurance skiers.
And we are working on coordinating a few other events. WE will continue to update list of events as we finalize them.
All are welcome, whether you're already a member or want to learn more about the club and its programs. We look forward to seeing everyone so book this in your calendar now.
Questions or want to help with the event?  Contact Lily Yip, Event Coordinator.
Welcome from the President
A welcome message from Richard Batty, view pdf
Cross training with the ORCC
Here is additional training opportunity offered by ORCC winter programs.
Racing Rabbits in the spotlight
In March 2013 Councillor Mathieu Fleury joined the Racing Rabbits for a training session at the Y camp. Councillor Fleury is doing a project called '52 Sports in 52 Weeks' and chose Kanata Nordic to represent xc skiing in the National Capital region. Check out the video of his visit. We're the first of 52!
Kanata Nordic's Annual General Meeting and Banquet
Coming up on Sunday April 21 at the Royal Canadian Legion Hall in Bells Corners. Deadline for ticket purchase is April 18, 9pm


Spring skiing!
Photo by Ken Knight
---
Follow us on Twitter!
Social media + skinny skiing = Kanata Nordic on Twitter.
@KanataNordic. Nuf said.
Follow us and retweet often.
---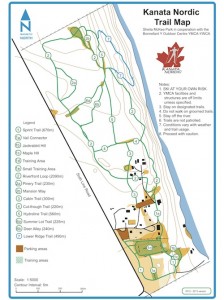 New Trail Map for 2013-14 Season
Click on the image on the left for a larger view of our new trail map, updated as of November 2013.
Many thanks to Stefan Bergstrom of the Ottawa Orienteering Club for his help in creating this great new map.
The maps are posted trailside at major intersections and entry points.
---
Club Brochure
Click on the brochure below to download a PDF version.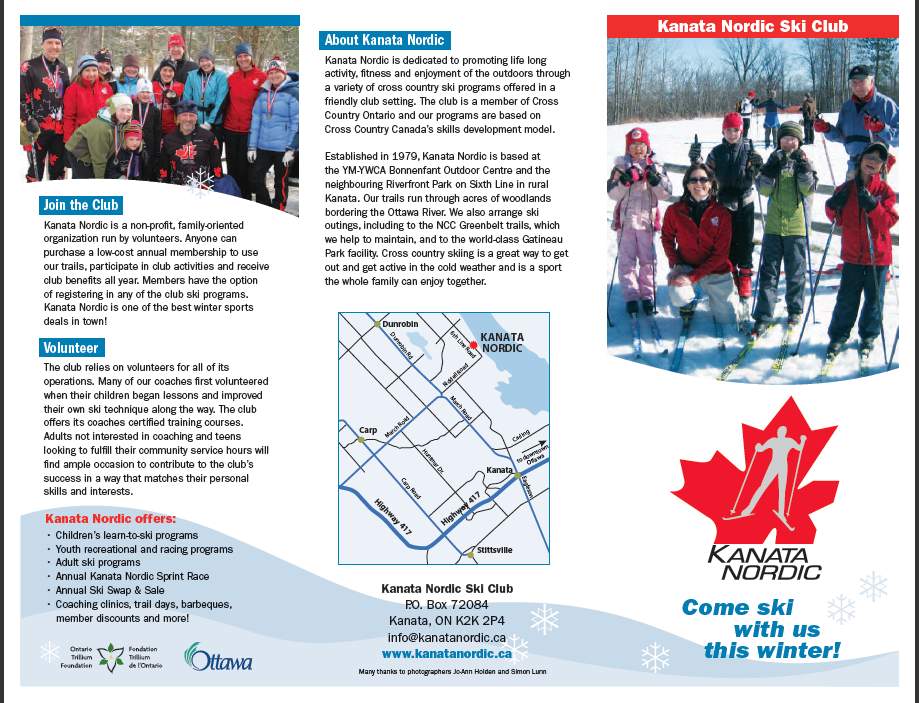 ---
Kanata Nordic receives funding and support from
The Ontario Trillium Foundation and the City of Ottawa.