Welcome to Kanata Nordic Ski Club
2014-2015 Program Registration is now OPEN
Find all the program information in the links in the left margin, or Programs at the Glance (revised.Sept 25) to see this year's new prices and dates. Note that 10-13 years old skiers can now join the racing program (racing rabbits) or non-competitive program (track attack), or if new to XC skiing Dynarabbits. Otherwise Adult and Children's program are pretty much the same as last year. On snow programs are run at 1620 Sixth Line Road, Dunrobin, the Bonnenfant Y Outdoor Centre.
If you have already checked and are ready to register go to ZONE4 NOW.
2014 AGM is on Tuesday March 25, 2014
The AGM will be held on March 25 at 7pm at the YMCA outdoor center. The meeting will be at the Veil building. All members are welcome and encouraged to attend.
Agenda: March 25th, 2014 AGM Agenda
Minutes: April 15, Minutes for 2013 AGM
We're on TV Sunday March 9, 2014
The sporting event of the season, no not the Olympics, the PRETZEL race, will be broadcast on Rogers Cable on Sunday. Set your VCR/PVR for Sunday March 9 at 2.00 PM, Rogers Cable 22.
Banquet is on Sunday March 30, 2014
This year the annual banquet is on March 30. The location is Kanata Legion Hall (branch 638) on Hines Road. Details on how to purchase ticket (paypal) and the dinner menu will follow. Stay tune for details.
JR fun day was held on Saturday Mar 1st
The Olympic theme fun day this year was well attended, thanks to everyone who helped to make this a really fun day for the JR.
Another successful Pretzel Race:  Sunday Feb 23, 2014
Our annual sprint race was be held on Sunday Feb 23, 2014. Thanks for the supports from everyone to make this another successful Pretzel Race. Congratulate all the racers who participated. Final results will be posted later. Don't forget to check out the broadcast of the race at the local community channel.
The race notice is here.
The race day schedule is here.
The start list is here.
To register following this link https://zone4.ca/reg.asp?id=6303 or search for kanata sprint race in zone4.
Welcome from the President
A welcome message from Richard Batty, view pdf
All 2013-2014 Bunnies, Jack Rabbits, Teens and Adults programs begins on Jan 4 … That is Sat. Jan 4, 2013 at 1:30pm at YMCA outdoor center on Sixth Line.

Cross training with the ORCC
Here is additional training opportunity offered by ORCC winter programs.
---
Follow us on Twitter!
Social media + skinny skiing = Kanata Nordic on Twitter.
@KanataNordic. Nuf said.
Follow us and retweet often.
---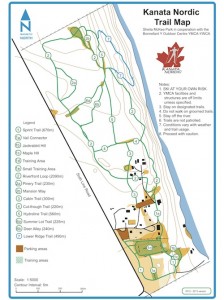 New Trail Map for 2013-14 Season
Click on the image on the left for a larger view of our new trail map, updated as of November 2013.
Many thanks to Stefan Bergstrom of the Ottawa Orienteering Club for his help in creating this great new map.
The maps are posted trailside at major intersections and entry points.
---
Club Brochure
Click on the brochure below to download a PDF version.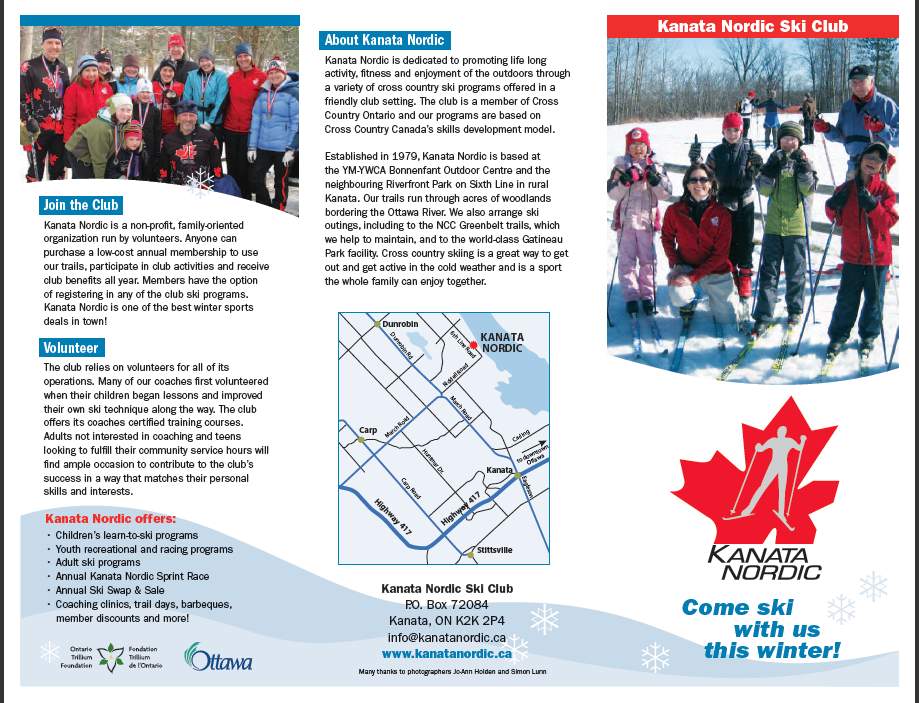 ---
Kanata Nordic receives funding and support from
The Ontario Trillium Foundation and the City of Ottawa.