Trails
Skiing at Wesley Clover Parks and not a member of Kanata Nordic?
Your best deal is a late season ski pass for only $15. We'll groom as long as we can and you can ski as much as you like! Simply go to our PayPal page to purchase the pass.
You can also pay a $5 drop-in/day use fee. Just put the fee in the new, ultra-secure lockbox at the little trailhead cabin. Children under 13 years old can ski for free.
Questions or comments? Please contact wesleycloverparks@kanatanordic.ca.
The Trails at Wesley Clover Parks are now open!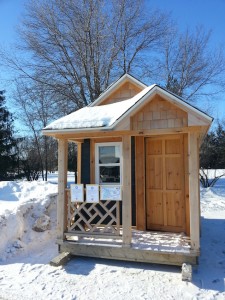 In a few short weeks we've been able to prepare 15 km of skate and classic ski trails meandering through this beautiful property at the eastern edge of Kanata. The entrance is at 401 Corkstown (the  equestrian park). Drive to the main parking lot and look for our charming little trailhead cabin.
Come check out the trails anytime. Kanata Nordic membership includes a pass for this season. To join the club, go to our Registration page or to get a ski pass (before Feb 12) simply donate to our Indiegogo fundraising campaign and select the pass as a 'perk'.
Members who haven't yet received their pass can contact Marlene.
For casual users, day passes are $5 per adult; children under 13 no charge. There are envelopes, a sign-in book and a fee collection box at the trailhead cabin. It's a honour system.
No walking, snowshoes or dogs on ski tracks — stay to the side opposite any groomed tracks.
No access to other buildings (the outhouse at the trailhead is for skiers and other trail users).
The trail map is posted at the trailhead cabin. You can also download it here.
In the coming weeks we'll be posting more maps and trail numbers throughout the trail network. Please be understanding as we put all the final touches in place for the season.
Be safe — don't ski alone. Enjoy the trails!
And let us know what you think.
Kanata Nordic is on the move!
Dec. 30, 2014. As detailed in the General Meeting notice on the home page, we've begun our transition to Wesley Clover Parks (a.k.a. The Parks), the beautiful property formerly known as the Ottawa Municipal Campground and Nepean Equestrian Park, on Corkstown Road.
This is a season of plenty for our members. We're continuing to maintain and groom the great trail network at our usual home base at the Y while also putting in a lot of labour to prepare our Phase 1 trails at The Parks. As we do not yet have grooming equipment onsite at The Parks, grooming will happen in stages over the coming weeks. So please bear with us while we create and start to groom the best xc ski trails this side of the Ottawa River. Both trail systems were open for member use until the snow melted and will be again once the snow returns. Read more about the move in our news release.
NOTE that all trail users at The Parks will require a visible ski pass. Passes will be distributed to members during Saturday lessons in January and February, in the Vail building at the Y. For other arrangements contact Marlene Alt. Non-members will be asked to either buy a membership or purchase a day pass ($5) each time they ski there.
CHECK BACK LATER FOR A TRAIL MAP OF THE PARKS AND DETAILS ABOUT PARKING, ETC.
But we need your help…
Maintaining two locations this winter requires extraordinary resources from the club, both financial and voluntary.
Volunteer!
Remember how you had to indicate a volunteer role when you registered? Now's the time to step forward. If you can contribute an hour or an afternoon doing some outdoor labour or indoor support it would be greatly appreciated. Contact Mike Duivenvoorden or Marlene Alt to help out. On the other hand, we also need funding…
Donate!
We've launched a crowd-funding (Indiegogo) campaign to help offset our extra expenses this season: a new snow machine and groomer, insurance, storage, and the like. We hope all our members will show their support for this exciting new development by making a donation. Any amount is welcome! The campaign only runs until February 12. Check out the enticing perks.
Questions or comments? Please contact Relocation Committee chair Marlene Alt.
---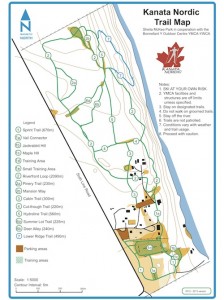 New Trail Map for 2013-14 Season
Click on the image on the left for a larger view of our new trail map, updated as of November 2013.
Many thanks to Stefan Bergstrom of the Ottawa Orienteering Club for his help in creating this great new map.
The maps are posted trailside at major intersections and entry points.
---
Trails Day + Jackrabbit Fun Day, Sunday October 14, 2012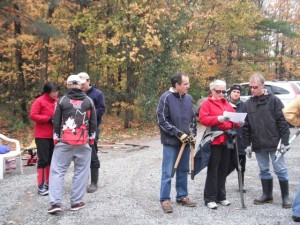 Our first Trails Day of the season is on Sunday  October 14, 2012 (rain date is Sunday October 21). We need your help! We'll be cleaning up debris along the trails and cutting branches and underbrush so there's work for all muscle sizes, big and small.
And it's a chance to get some fresh air,  exercise and meet old ski mates. We are also planning some activities for the young ones with a Jackrabbit Fun day event.
Time: 10:00 am – 2:00 pm. The Jackrabbit events are 10:30 – 12:00 noon and parents must sign their children in and out.
Place: Bonnenfant Y Outdoor Centre, 1620 Sixth Line Rd.
Parking: Park at the Riverfront parking lot (The second parking lot, a few hundred meters north of the Y parking lot)
What to wear: gloves, sturdy shoes or boots, long pants. There is poison ivy onsite, so be sure to cover up and launder clothing when you get home.
What to bring: clippers or snippers, handsaw. If you have a power trimmer (with or without a blade), please let us know and bring it along with safety glasses/protective gear.
Refreshments: Hot soups and buns will be available at no charge. Bring your own mug and water or something to drink.
RSVP:If you can help with the trails email trails@kanatanordic.ca. If you want to participate in the Jackrabbit event or can help with that please email Elizabeth Brown (jackrabbit@kanatanordic.ca).
We hope to see you on the trails!
At the Y
Kanata Nordic is based at the Bonnenfant Y Outdoor Centre (BYOC) located in rural Kanata at 1620 Sixth Line Road. Our trails wind through 120 acres of the Y property and Riverfront Park, just to the north, which is owned by the City of Ottawa. Parking is at the entrance to the BYOC. There are 5 kms of skating and classic trails, at beginner and intermediate levels. The club tracksets the trails after each significant snowfall and just prior to our Saturday lessons during the Jackrabbit program (usually January through March). Please note that as with most trail systems, all skiers who use these Y trails do so at their own risk.
Can I bring my dog?
The BYOC's policy states that "for the health and safety reasons visitors and group participants are not permitted to bring pets to the Bonnenfant Y Outdoor Centre".
Meet Big Red: The Life of a Grooming Machine
(03/12) Life is pretty good being the head trail honcho at Kanata Nordic. Officially I'm a Tidd Tech G2, but you can call me Big Red. Hook me up to my buddy the Can-Am Outlander 650 ATV and together we do the lion's share of the grooming on the trails of the Y Bonnenfant Centre and Riverfront Park. Occasionally I get to go on a field trip, like to the Mlacak Centre and Earl of March High School last year, where I crafted some fine trails for the 2011 Pretzel Race.
I'm equipped with a mat to groom skate trails and a tracksetter for making those beautifully carved classic tracks. Though icy conditions can be a challenge. After a freezing rain or with hard old snow I lower my blades to cut up the crud. When I'm given lots to work with — a big snowfall — the ATV takes out a roller first, to pack the snow down before I do my more refined work.
I should mention my human co-workers, who also have a role in the trail grooming business. Currently Steve Tuttle, Pat Kirkham or Gene Vigneron take me out at least three times a week: Tuesday and Thursday afternoons, to prepare for Racer and Track Attack sessions those evenings, and Saturday mornings, before the trails come alive with Bunnies and Jackrabbits of all ages and abilities. Each of these grooming sessions take about three hours.
I like to keep these guys and a few other Club volunteers' on their toes so I've been known to throw a little tantrum – I mean, electrical malfunction -at them. I also like to try to get a laugh by falling or sliding off the trail while in use. These antics get me all the attention I need and ensure the guys are smart enough (and their hands sufficiently immune to the cold) to repair my wiring, plus strong enough to heave me back onto the trail.
Despite the good company of this dedicated trail crew, my days off were sometimes lonely so I was pleased to get a little brother last month, a Ginzugroomer, which is pulled by the Club's Skandic snowmobile.
All things considered it's a good life as the top dog of the grooming brigade at Kanata Nordic. The smiling faces of the kiddies learning to ski out on my trails are all the reward I really need.
Parking & Safety at the Y

This is a busy place Saturday afternoons from January through March, when the bulk of our on-snow lessons take place. When you arrive, we hope to have a parking marshal at the entrance to guide you to available parking. (The marshal and our leaders will all wear orange construction safety vests as a means of quick identification.) If no one is there, try the inner lot first and the lot by the entrance as an overflow. To get to the inner lot drive through the gate past the outer lot and turn left. We encourage families with small children to park in the inner lot as there will be less traffic there. We are hoping that nearly all the vehicles can be accommodated in these two lots. If there are no spaces available in the lots then park on 6th line but park north of the Y entrance as we want to avoid any cars parked near the curve which is dangerous.
From the inner parking lot members can now ski along the road from the chalet to behind the Vail building. From the main parking lot, the trail access is directly into the training field, then from the far end of the training field to the connecting trail behind the Vail. There are signs posted indicating this. Please do no ski in the area around the BYOC office or the area behind the BYOC office. Respect any areas marked off as non-ski areas.
Another safety factor is the proximity of the Ottawa River. None of our members: children, teens and adults, should ever venture out on the ice period- no exceptions.
We look forward to another great ski season and to the use of the walk out basement in the brand new Vail Building on Saturday afternoons for hot chocolate breaks and washroom breaks. Instead of using the steps up to the front door, please enter by the northeast door which faces the river and is at ground level and so allows you to enter directly into our section of the basement.
OFF-SEASON NOTICE: Kanata Nordic has an agreement with the YM-YWCA for use of some facilities at the Bonnenfant Centre during the ski season for our ski lessons and related activities. This agreement does not continue through the non-ski season. Consequently our members do not have access to the Y property during that time, nor does the public in general. However, the neighbouring Riverfront Park is open to the public and has waterfront access. Please use the Riverfront Park's parking lot, not the Y's. For those interested in summer clubs, the nearby Ottawa River Canoe Club and Kanata Sailing Club offer summer programs for their members. Many thanks for your cooperation.
Trail Use Fees
We often are asked where users can pay for trail use.  Currently we have no system in place to buy a day pass or pay a trail fee.  Instead we encourage those that wish to support trail grooming or provide financial assistance to cover operating expenses  and potentially make trail improvements in the future, to purchase a family or individual membership.  Simply go to the registration page and register on-line without selecting any programs.
For the current trail conditions at the Bonnenfant Y Outdoor Centre (BYOC) click on "Trail Conditions" under "Latest Updates"in the left-hand menu or click here.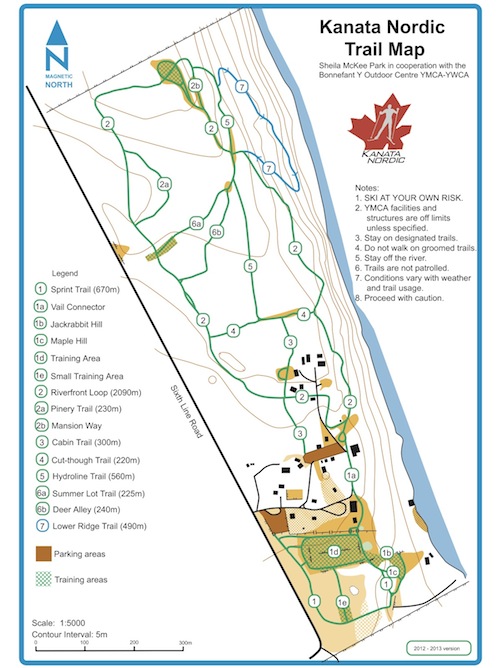 Click here (or the image above) for a map of our trails at the BYOC and neighbouring Sheila McKee Park.

In the western Greenbelt
Kanata Nordic also tracksets approximately 25 km of NCC Greenbelt trails in the west-end of Ottawa. The trails maintained by the Club there require greater than 25 cm of snow cover in all areas before mechanical grooming is practical due to the rock projections and undulations. Our experience is that with the limited snow cover man-made tracks (set by skiers) can be good.  Note that with limited frost penetration this year (winter 2009-2010) wet areas may continue to be wet below the snow.
All trail work is completed by volunteers.
For a western NCC Greenbelt trail map click here .
Gatineau Park, Gatineau, Quebec
We are fortunate to live near one of the greatest cross country ski areas in the country — the Gatineau Park! With over 200 km of trails it is a world-class facility, operated by the National Capital Commission (NCC). Click here for a map of the winter trail network at Gatineau Park. For fees and other information on the park visit the NCC web site.
For the latest trail conditions in Gatineau Park click here.
A Comprehensive Site for Trail Networks in Our Region
XCottawa.ca has created a web site to capture trail conditions for Gatineau Park, Nakkertok, Mooney's Bay, our own Kanata Nordic venue (Y + Riverfront) and the Greenbelt. The site relies primarily on skiers to post the conditions they encountered. One stop shopping for trail conditions! Click here to have a look.
Kanata Lakes / March Highlands Trail Network
The trails indicated on the attached historical map (2.2M) were developed by the Kanata Cross Country Ski Club starting in the 1970s, when only the Beaverbrook neighbourhood existed north of Hwy 17.  The Club officially came into existence in 1979. The map is courtesy of Carleton University collection.
West Carleton Nordic Ski Club
This cross country ski club is based at Fitzroy Provincial Park and offers a groomed trail network that you can use for a day use fee or through membership with the club. For more information visit their web site.
Trail Etiquette and Safety
Cross-country skiing involves some risk so everyone participating does so at their own risk.
Ski under control at all times and be aware of others on the trails, particularly on the hills. Yield to skiers coming down a hill.
Trails are not patrolled so everyone is encouraged to ski with a buddy. If you are out alone ensure someone knows where you are and how long you plan to be out.
Dress appropriately for the weather and be aware of changing weather conditions.
Please stay on the groomed trails.
Stay to the right on double tracked trails.
Call out 'track' to slower skiers ahead and pass on the left. Good etiquette dictates that slower skiers move to the right to allow faster ones to pass.
Please do not damage any vegetation, signs, etc. and enjoy the natural environment!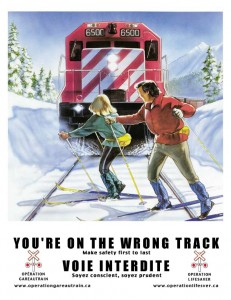 For information on the trails and to volunteer for maintenance and grooming please contact trails@kanatanordic.ca.