Annual Ski Swap & Sale
This year the 2014 Ski Swap & Sale is part of the Club Activity Day + Open House on Saturday November 22th. The Ski Swap is being held from 10:30 am to 1:00 pm, again this year, it's being held at our club location at the YMCA Bonnenfant Outdoor Centre, 1620 Sixth Line Road in Dunrobin The sale and the equipment drop offs are in the upstairs Hall of the Vail Building. Equipment drop off is on Friday evening Nov 21th from 6:30 until 8:30 pm and Saturday morning from 8:30 to 10:00 am.
To sell used equipment SELLERS MUST COMPLETE THE SELLER FORM. First download and read the Seller_Instructions and then download and fill out the Seller_Form and bring the completed form to the Equipment Drop-Off along with a twoonie for each item of equipment you wish to sell.  This event is intended as a service to the public AND a fundraiser for the club so in addition to The $2 registration fee per item placed for sale, the club also retains 20% of the sale price of each item sold.  All unsold items and the proceeds of the sales must be picked up by the sellers by 2:00 pm on Saturday, Nov-22th, unless alternate arrangements have been agreed to.
The new ski swap poster would be updated soon …..
If you would like to help out with the event please contact Lily Yip (events@kanatanordic.ca). You can also help out by downloading a Ski_Swap_Flyer (2014 update) to print and post at your school or place of work.
2011 September Swap & Sale Less Busy But Loads of Fun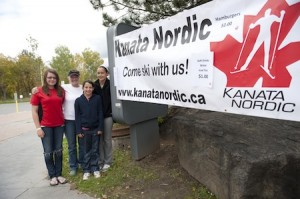 Unaware of it themselves, dedicated xc skiers go about their days with a barely suppressed glee from the moment the leaves start changing colour, and are positively quivering with excitement by the time those first flakes of snow drift slowly from darkened skies. Gather enough of these skiers together in one place and give them an opportunity to chat to each other or any one else who drops by about all things xc and they generate a tangible charge in the air.
So it was on the last weekend in September when Kanata Nordic volunteers turned out for our Annual Ski Swap and Sale. With so many members on site at the Mlacak Centre it was impossible to ignore the vibes! The registration desk was kept hopping as new and returning families registered and nailed their early-bird discounts. Program details were discussed and program suggestions made. Our resident experts advised on the right equipment for parents and kids. The clothing display garnered considerable attention as well, with experienced members offering pointers on how to dress properly for the trails. Gently used equipment was received and priced on the busy Saturday then stored for the sale on Sunday.
Outside, the fundraising BBQ attracted hockey players, figure skaters, ballerinas, and library goers as they came and went from Mlacak. The two-day event saw plenty of new volunteers eager to help along with the experienced ones and several of our youngest members discovered the joys of volunteering while assisting at the BBQ.
Sunday's sale saw fewer people than in years past, leading organizers to believe that although the other aspects of the event were successful the sale itself was ill-timed. Carp Fair was on the same weekend, and Mlacak itself had few activities scheduled on the Sunday for next to no foot traffic. Most importantly, perhaps it was just too early for the general public to purchase equipment. Nevertheless, we had happy shoppers going home with new gear and sellers leaving with extra cash in their pockets. Costs to the club in the way of hall rentals and food supplies were covered and the club realized a small profit. So while Sunday's sale was not as well attended as usual, the weekend event was deemed worthwhile, success being so much more than merely revenue.
With the terrific volunteer base that we already have, I look forward to a tweak of the details delivering a bigger and better event next year. Members who would like to assist in the planning or execution of this or any Kanata Nordic special event (or who have some to suggest!) please contact me, Events Coordinator Shelagh Ryan at event@kanatanordic.ca.
Photo by Jessica Deeks
---
2010 Ski Swap & Sale on Sunday Sept. 26th
This year's Swap and Sale takes place on Saturday September 25 for equipment drop off and Sunday September 26 for the sale itself in Hall C at the Mlacak Centre, 2500 Campeau Drive, Kanata.
Bring any adult or children's cross country skis, boots or poles on Saturday from 11:30 a.m. – 3:30 p.m. and experienced club members will help you price your gear. Non-members are welcome to sell their equipment through the Kanata Nordic event too. A reminder to all that the Swap is for cross country gear only (no downhill equipment). We charge a mere $2 for each item you register to sell, and will retain 20% of the sale price to cover the hall rental costs.
The Swap and Sale is open for purchases to members and the general public on Sunday from 12:30 – 3:30 p.m. (no drop offs on Sunday, please). Purchases can be made by cash or cheque. Proceeds from your sales or your unsold equipment must be picked up between 3:00 – 4:00 p.m. on Sunday.
You can self-register your items for sale in advance, to save time at the Swap & Sale. Simply read this instruction sheet and then print and fill out this registration form.
For those considering new equipment this season, we have invited several local sports retailers, including Bustukah and Fresh Air Experience, to the Swap and Sale on Sunday. They will have some deals for you and can also help determine what equipment best suits you.
At any of the Saturday or Sunday hours you can also register in person with Kanata Nordic for the upcoming season. Everyone who registers, either at the Swap or online, will receive a free Kanata Nordic tote bag, new this year! Register before October 1st to take advantage of early bird discounts. Also on Sunday we will have a barbeque and some special surprises for all.
Volunteers are required to help with set-up, pricing equipment, handling registration and other tasks. To volunteer please contact Event Coordinator Shelagh Ryan or for more information on the event please contact Racing Coordinator Harris Kirby.
---
2009 Event was Another Swap & Sale to Remember
(Dec. 1, 2009) This year's edition of the annual Kanata Nordic Ski Swap & Sale was again a great event, with many people snagging bargains on equipment and others happy to have less gear in their basements and more cash in their pockets.
As always eager buyers had 'invaded' the hall well in advance of the sale's start time. But once the initial pandemonium had subsided the sale went smoothly.
Some stats from the event:
73 items offered for sale by 27 people
23 people sold at least 1 item for a total of 55 items sold
$2786 taken in for the sale of goods, including the $2 per item fee
$2091 returned to the pockets of sellers
$164 in costs to Kanata Nordic to run the event
$531 net profit to the Club for operating expenses
There was a healthy level of action at the member registration desk, where about 25 families signed up with the Club for the season. You can still register online, but don't delay because our programs do fill up!
A very big "thank you" to all the volunteers who generously gave their time to make this year's Swap & Sale possible. Thanks also to Fresh Air Experience for their continued support and presence on site. And one last thanks to the Kanata Centrum Boston Pizza, whose staff were there Sunday with their big blue mascot Lionel, giving out pizza, tattoos, balloons and coupons.
Volunteers are required to help at the event, with clothing sales, pricing equipment, and handling registration. To volunteer or for more information on the event please contact Racing Coordinator James McAvoy or Promotions Coordinator David Bentley.