Trails
Come ski on our growing network of over 18km of groomed trails for classic and skate-skiing at Wesley Clover Parks (WCParks), where we are now the resident ski club. More trails continue to be developed each season. We ask that you please respect the trails which includes no bicycling, walking or snowshoeing in ski tracks — please stay to the side; dogs are not permitted on the trails. We share our trail network with local wildlife and also ask that you respect them by avoiding approaching or interacting with them.
Everyone is welcome to get out to ski and enjoy the trails! The public can buy a ski day pass for $7.00 or a Snowshoe day pass for $5.00; children under 13 are no charge. Kanata Nordic members receive a season trail pass as part of their membership to ski the trails as often as they like throughout the season. A day pass to ski the trails is $7.00 payable at the trail-head or you can pre-purchase a day pass online and pick up your day pass sticker at the trail-head.
Trails are groomed 3 times per week by volunteer groomers. Trail conditions will vary depending on snowfall and snow conditions. It is recommended that you do not plan your ski on Saturday's between 1:00 pm – 4:00 pm when lessons take place and there is more limited trail space.
Skiing the Trails: Trail Information & Guide 
Please follow and abide by these trail rules and etiquette to help make the trails a safe and fun place for everyone. Trails are not patrolled / Use them at your own risk.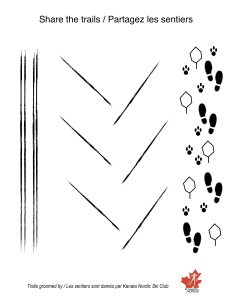 Trails are not patrolled / Use them at your own risk
Trails and open areas are reserved for cross-country skiing or snowshoeing in the winter months other activities are not permitted. Please be aware that Wesley Clover Parks do have other partners who run activities outdoors to promote winter fun and we must respect these partners.
Trail use requires visible Kanata Nordic pass.

Day passes are available at the trailhead for $7.00 / KN Members receive a season pass with their membership.

No bicycling, walking or snowshoeing in the ski tracks — please stay to the side; dogs are not permitted on the trails. Please share the trails.
Be cautious at the railway line — the only safe way to cross is to use marked crossings and obey all signs and signals
Our trails are groomed by a dedicated volunteer team
No Skis or Poles are allowed inside any of the buildings. All equipment must stay outside on designated racks.
Please park at 401 Corkstown road and avoid parking at the Campground (411 Corkstown) – while you are welcome to ski in the campground area the gate is not open at regular times.
The gate at 401 Corkstown (our main trailhead) is open from 7am-9pm on weekdays and 9am to 9pm on weekends.
Trail Etiquette 
Yield the right of way to skiers coming downhill
Use caution on hills and keep right as all trails are 2-way traffic unless otherwise posted
Follow the proper direction on one-way trails
When meeting oncoming skiers move to the right so there's room to pass each other
Faster skiers should step around slower skiers with a friendly warning
Stop on the trail only when you are visible from above and if you are not obstructing the trail
When you fall, move off the track and then fill in any holes so it is safe for following skiers
If walking is necessary, stay to one side and avoid walking in tracks
Be courteous and helpful to fellow skiers
Happy skiing!