Trails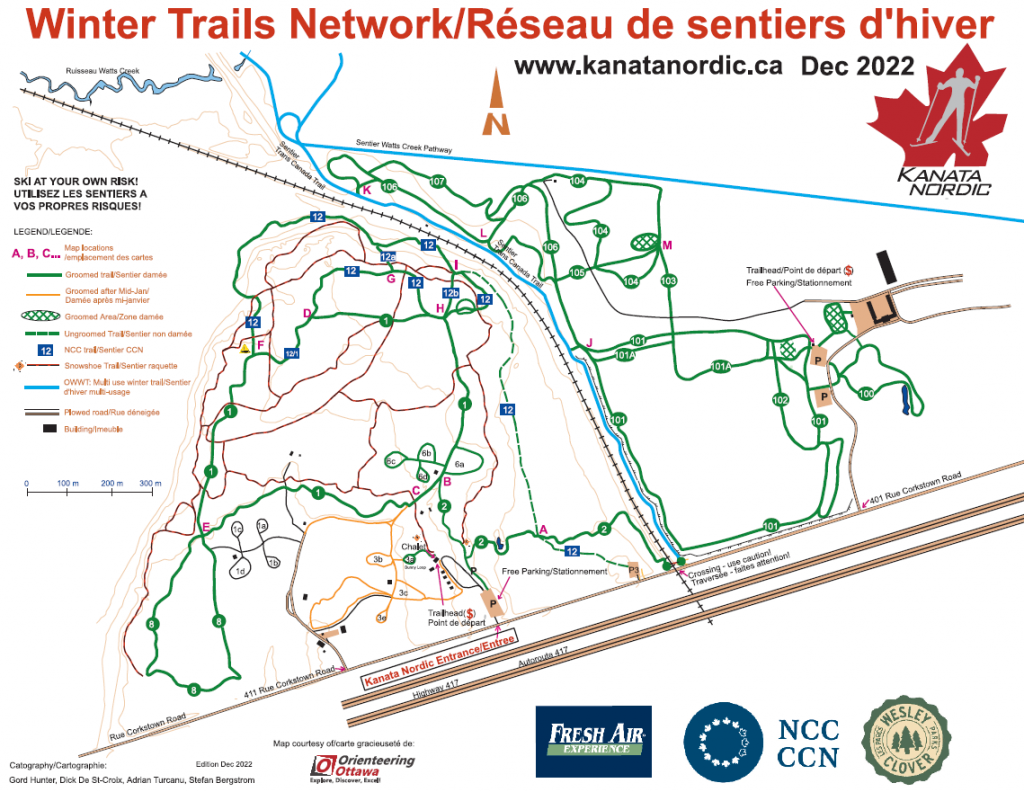 **TRAIL SYSTEMS WILL BE CLOSED FOR THE 2023 SEASON ON APRIL 3RD!
Gate Hours
Gate times at both 401 Corkstown (the equestrian park) and entrance on the hill (marked with red flag):
Open at 7:30am
Close at 10:00pm
7 days a week when the trails are open / Ensure your vehicle is out by 9:55pm
NOTE: During the Magic of Lights event, the gate on the hill at the red flag will close to skiers and snowshoers at 3:30pm. Any cars still in the parking lot at 3:30pm will be locked in for the night. DO NOT SKI ON OR NEAR THE LIGHT DISPLAYS OR THEIR ELECTRICAL CORDS. After the Magic of Light, from Jan 11 – 15, the gate may be closed while the displays are disassembled.
---
Overview
Come ski on our growing network of over 18km of groomed trails for classic and skate-skiing at Wesley Clover Parks. Trail improvements happen each season. We ask that you please respect the trails which includes no bicycling (including no fatbiking), no walking and no snowshoeing on ski trails. We offer a dedicated 3km snowshoe trail in addition to the ungroomed trail from P3 to trail 12 that is suitable for snowshoeing. Dogs are not permitted on any trails.
The public is welcome to get out to ski and enjoy the trails. You can buy a ski day pass for $10.00 or a snowshoe day pass for $5.00; children under 13 are no charge. Kanata Nordic members receive a season trail pass as part of their membership to ski the trails as often as they like throughout the season. Day passes can be purchased at either trailhead or you can pre-purchase a day pass online.
Trails are groomed approximately 3 times per week by volunteer groomers. Trail conditions will vary depending on snowfall and snow conditions. It is recommended that you do not plan your ski on Saturday's between 1:00 pm – 4:00 pm when lessons take place and there is more limited trail space.
We share our trail network with local wildlife and ask that you avoid approaching or interacting with them.
We also share the Parks with the Forest and Nature School, which operates year-round and is located north of the campground area. Classes are run largely outdoors, so please help the school maintain its privacy and security  by staying clear of their access road, structures (including their porta-potty), and activities.
Equipment Rentals
Please consult the following page about Kanata Nordic's rental equipment offerings: https://www.kanatanordic.ca/trails/equipment-rentals. 
If the times are inconvenient to your needs, we can recommend the following knowledgeable retailers. We suggest you call ahead to determine availability. Kanata Nordic members receive a discount — ask for it!
Skiing the Trails: Trail Information & Guide 
Please follow and abide by these trail rules and etiquette to help make the trails a safe and fun place for everyone.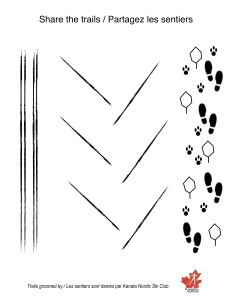 Trails are not patrolled / Use them at your own risk
Kanata Nordic trails and open areas are reserved for cross-country skiing or snowshoeing in the winter months. Other activities are not permitted. Please be aware that Wesley Clover Parks has other partners who also run activities outdoors.
No biking, walking or snowshoeing on the groomed ski trails. Dogs are not permitted on the trails.
Be cautious at the railway line — the only safe way to cross is to use marked crossings and obey all signs and signals
Our trails are groomed by a dedicated volunteer team
No skis or poles are allowed inside any of the buildings. All equipment must stay outside on designated racks.
Trail Etiquette 
Yield the right of way to skiers coming downhill
Do not ski behind the groomers
Use caution on hills and keep right as all trails are 2-way traffic unless otherwise posted
Follow the proper direction on one-way trails
When meeting oncoming skiers move to the right so there's room to pass each other
Faster skiers should step around slower skiers with a friendly warning
Stop on the trail only when you are visible from above and if you are not obstructing the trail
When you fall, move off the track and then fill in any holes so it is safe for following skiers
If walking is necessary, stay to one side and avoid walking in tracks
Be courteous and helpful to fellow skiers
Happy skiing!