Upcoming Leader Training & Opportunity to be a Leader!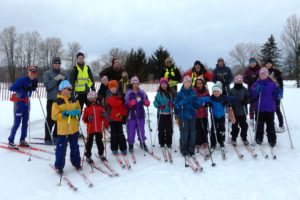 Develop your skiing and help younger skiers learn to ski by becoming a trained coach and volunteering to be a leader. We are looking for leaders and assistant leader volunteers for our Bunnyrabbit and Jackrabbit programs. Only basic skiing skills are needed to start.
For those who volunteer to be leaders or assistants for our ski programs and take the Introduction to Community Coaching or Community Coaching course Kanata Nordic will reimburse your training cost. Click here to view current course opportunities.
Time commitment: Saturday afternoons from 1:30 to 3:30 pm from January to March (10 sessions).
If you're interested in sharing your love of skiing with the next generation of skiers or would like more information please contact: jackrabbit@kanatanordic.ca
Upcoming Coach Training Opportunities 
These courses provide help you expand your knowledge and prepare to be a leader by providing you with excellent material with templates, ideas and more. You have to be 14 years old to do any of these courses — teens welcome! 
NCD coaching courses

Hosted at Nakkertok Nordic

Introduction to Community Coaching (ICC) #1  – Nov 19

register here:

in filters

choose month

choose specific sport – cross country skiing

choose province – Ontario

Community Coaching (CC) #1

date(s) tbc

L2T Dryland Nov. 4 and 5

register here:

choose month

choose specific sport – cross country skiing

choose province – Ontario